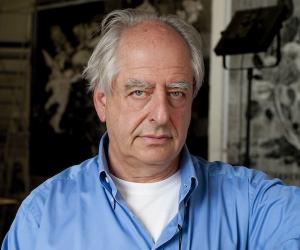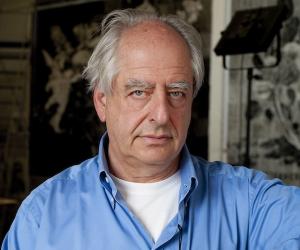 Speaker
William Kentridge is best known for his prints, drawings and animated films constructed through filming his own drawings, making changes and filming them again. He has also worked on theatrical productions such as Mozart's The Magic Flute and Shostakovich's The Nose, which have shown in theatres in Europe as well as The New York Metropolitan Opera.
William Kentridge's work has been seen in museums and galleries around the world since the 1990s, including Documenta in Kassel, Germany (1997, 2003, 2012), the Museum of Modern Art in New York (1998, 2010), the Albertina Museum in Vienna (2010), Jeu de Paume in Paris (2010), and the Musée du Louvre in Paris (2010). Kentridge's production of Mozart's The Magic Flute was presented at Theatre de la Monnaie in Brussels, Festival d'Aix and at La Scala in Milan. His production of Shostakovich's The Nose was seen at The New York Metropolitan Opera in 2010 and again in 2013, travelling to Festival d'Aix and to Lyon in 2011.
The 5-channel video and sound installation The Refusal of Time was made for Documenta (13) in Kassel, Germany, in 2012. Since then it has been shown at the Metropolitan Museum, New York, and other cities including Rome, Boston, Perth, Kyoto, Helsinki and Wellington.
A substantial survey exhibition of Kentridge's work opened in Rio de Janeiro in 2012, later travelling to Porto Alegre and São Paolo (Brazil), Bogotá and Medellín (Columbia) and Mexico City (Mexico). In mid-2014, Kentridge's production of Schubert's Winterreise opened at the Vienna Festival, Festival d'Aix and Holland Festival. Later in the year it was performed at the Lincoln Center in New York. Paper Music, a concert of projections with live music by Philip Miller, opened in Florence in late-2014 and was then presented at Carnegie Hall in New York.
In 2010, Kentridge received the prestigious Kyoto Prize in recognition of his contributions in the field of arts and philosophy. In 2011, he was elected as an Honorary Member of the American Academy of Arts and Letters. In 2012, Kentridge presented the Charles Eliot Norton Lectures at Harvard University and was elected as a member of the American Philosophical Society and of the American Academy of Arts and Sciences. Also in that year, he was awarded the Dan David Prize by Tel Aviv University, and was named as Commandeur des Arts et Lettres by the French Ministry of Culture and Communication. Kentridge has received honorary doctorates from several universities, including the University of London, Yale University, Wits University and the University of Cape Town.
In 2015, Design Indaba presented William Kentridge's chamber opera Refuse The Hour at the Cape Town City Hall as part of the annual Design Indaba Festival. This was a theatrical collaboration between the artist, Philip Miller, Dada Masilo, Catherine Meyburgh and Peter Galison. It ran alongside an installation of the exhibition The Refusal of Time, presented by the Goodman Gallery at the Iziko National Gallery in Cape Town, from February to June 2015. In his Design Indaba Conference Talk, Kentridge spoke about his creative process behind these works.