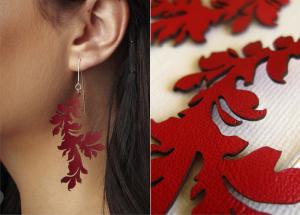 Standard
White Rabbit Days creates personal decorations: light, unique works that venture out into the world to start conversations. The pieces are made from unexpected materials such as lace and laser-cut leather earrings and neckpieces with sterling silver and silver-plated finishings, semi-precious stones and freshwater pearls. It has a new range of bold neckpieces hand-woven from ribbons.
White Rabbit Days was started by Helen Andrews at the end of 2011. With a graphic design and creative facilitation background she has always been pulled towards jewellery design and to taking flat images into the third dimension.
We play in a rabbit hole of beautiful things, a vibrant world of hand-made-with-love jewellery pieces, designed to splash colour and newness into the lives of their wearers.
The company now stocks over 20 shops and online retailers in South Africa and abroad and has had the opportunity to work with Ernest Mahomane on a range of leather pieces for his show at Cape Town Fashion Week 2014. Last year, White Rabbit Days was chosen as the accessories designer for a series of exclusive Cointreau Summer fashion events in Cape Town.