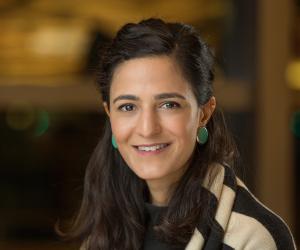 Speaker
Award-winning architect turned design entrepreneur Safia Qureshi founded Studio [D] Tale with Maxwell Mutanda to create wide-impacting design through innovation around the world. With a specific interest in shifting economies and trends, Safia's passion lies in bringing multi-disciplinary creative teams together for high impact. Key work includes city-scale disruptive innovations CupClub® and Tectyle®.
CupClub seeks to cause a revolutionary behavioural change by providing a sustainable smart cup to eliminate single-use cups in the city. Tectyle looks to provide off-grid solar power by combining technology seamlessly with textile.
Qureshi was invited by the Ellen MacArthur Foundation to talk on the Circular Economy of Reusables and waste commodity after the launch of CupClub, London Design Festival 2015. The work of the studio engages communities at grassroots level, through to large businesses and all the way up to policy making government bodies to understand performance and value of impact. Qureshi is also visiting professor at The Bartlett School of Architecture and professional mentor at the RIBA.
Work by the studio has been showcased internationally including London Design Festival, Venice Biennale and the Royal Academy amongst others.