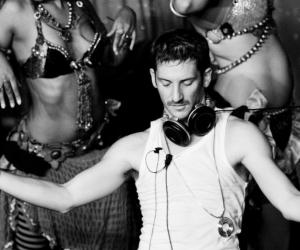 Standard
Ma'or Harris, known as Maoriginal, arrived in South Africa just over a decade ago. In 2006 he launched the Balkanology and Fiddle East parties – the first of which, marketed through word of mouth and flyers, drew between 500 and 600 revellers; the second of which drew double that number. The aim was to create a gypsy farm environment, complete with hay and chickens, to celebrate Balkan and Eastern European music – popular in Harris' home country, Israel.
Harris also put the reins on the Beat Barn at Rocking the Daisies and joined forces with Alain Ferrier. Together they run the eventing and promotion company Beanstalk which currently produces the Jozi Craft Beer Fest, Cape Town World Music Festival and the Balkanology series and world music stages at top local festivals OppiKoppi and Rocking the Daisies.
Maoriginal describes himself as a Nu World DJ. Other than his thumping set, you can expect beautiful dancing and courageous acrobatics behind the decks involving two chainsaws, a soft boiled egg and a vodka bottle.
His styles include folk step, shallow house, christ-step, god delusional dub and world bass.