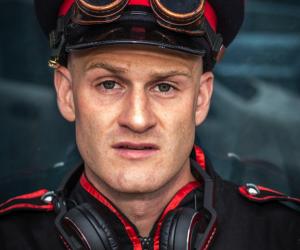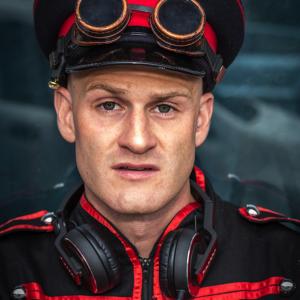 Standard
The Lt. emerged like a freshly-popped cork from the bleak obscurity of the depression-era dust bowl to land neatly in the bubbling champagne flute of high-society swing. Following a childhood steeped in the dirty electric voodoo of a carnival and the rich bourbon musk of a bordello, he embarked on a brief but meaningful stint in the military he refers to only as "the happening".
Here he danced between the rules like the notes in a Glenn Miller solo. Growing restless, he teamed up with legendary wiseguy Big Willy Wisdom to open his first Speakeasy, "The Fizzer" - a moniker that has stuck to this day. Ironically, due to a permanent smile and a cat-like tongue, speaking was the one thing he couldn't do easily, so he trained himself to communicate purely through music (and in later years, the Internet). Hosting all manner of elaborate soirees, from circus to swing to vaudeville and burlesque, he soon became a pillar of big band progression and was even said to be the inspiration for the character "King Louis" in The Jungle Book.
Once, while accompanying Billie on Holiday, he was accosted by folk musicians off the coast of Guam. Evading capture, he sought sanctuary in Cape Town, soon turning to a life of music and mischief once more. There he joined forces with various brass and jazz musicians and began hosting illegal electro swing dance evenings throughout the country. Catch him and his assortment of rebel rogues playing his dirty mix of electro/tech swing, big band, silly breaks and vintage in a sumptuous den of iniquity near you.