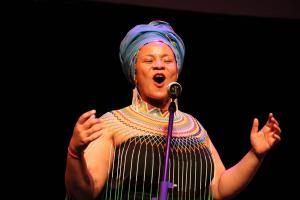 Speaker
An award-winning writer, presenter, actress and activist, Lebo Mashile is a South African household name who is most recognisable for her lyrical and gutsy poetry which has captivated audiences in 24 countries worldwide. Mashile is a much sought after social commentator, speaker, performer and master of ceremonies whose infectious enthusiasm is infused into every platform she has touched over the last 16 years.
She acted in "Hotel Rwanda", wrote "Flying Above The Sky", and won NOMA award for "A Ribbon of Rhythm". Her accomplishments include her self-produced album "Lebo Mashile Live!", she also wrote and performed in "Threads," a fusion of poetry, music and dance, with Moving Into Dance Mophatong in collaboration with renowned choreographer Sylvia Glasser.
She wrote, created and produced the documentary series "L'Attitude", presented "Drawing The Line" and co-presented Etv's children's show "Great Expectations". Mashile has just released her second studio album titled, Moya, in collaboration with singer/songwriter Majola. February 2018 saw her debut of a theatre piece on Saartjie Baartman.