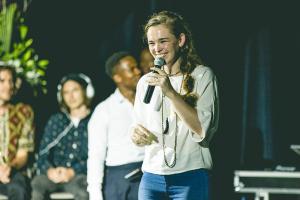 Pro-account
Jeanne-Louise is a social entrepreneur based in Pretoria. She tackles social issues through design thinking, inventing useful alternatives to current challenges people face in Pretoria.
She studied Information Design at the University of Pretoria, paving her way into the creative industries. In 2016 -2017, she and her team at Phlogiston Creative Industries re-ignited Molo Mollo, a nomadic cinema club based in the heart of Pretoria's CBD. Molo Mollo, roughly translated means "Hello Fire". It is a project that re-imagines decentralised spaces in the city.
With a pop-up silver screen and a great sound system, a popcorn machine and the help of a good team, Molo Mollo screens a variety of films on Wednesday nights from various locations in Pretoria.
Currently, Jeanne-Louise is experimenting with different methods of teaching and learning. How can technology compliment the way we learn and problem-solve in South Africa? How can design thinking improve a student's interest and sense of self at school and later in life? These are some of the questions that Jeanne-Louise is tackling with her new endeavour, Coin Projects. She is currently studying a tertiary teacher's diploma through UNISA.