Trend Forecast 2018 with Li Edelkoort

Trend guru Li Edelkoort presents her annual forecast on upcoming creative trends.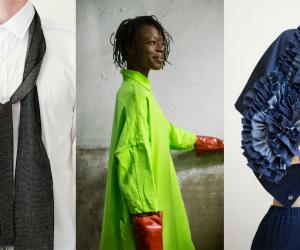 Back for Design Indaba 2018, Li Edelkoort's annual trend forecast seminar will once again expose curious creative minds to the coming season's shifting trends.
One of the festival's most anticipated events, this year's seminar will be held in both Johannesburg and Cape Town – at the LISOF: Fashion Design School & Retail Education Institute and the Artscape Theatre Centre respectively – giving attendees across the country the opportunity to hear from the internationally renowned Dutch trend forecaster and to discover how trends – from fashion, style, colour palettes and fabrics to design concepts and more – are emerging in a world in transition.
Edelkoort will be unpacking the following themes:
Spiritual House - Home & Lifestyle 2019
In response to a world in transition, the home environment becomes a sanctuary, an escape, a refuge and a comfort. Lifestyle embraces the federation of food, the connection of nature and the celebration of family, friends and pets. The spiritual home is a new domain in which our relationship to furniture, objects, materials and colours will gently shift, promising real change and great hope for the future. A profound search for simplicity, tenderness and humanity will pervade (edited)
On Safari - Activewear Spring Summer 2019
Contemporary social tribes are akin to the groupings of the animal kingdom; our celebrated diversity connects those who take pride as individuals with others that seek comfort in numbers. In an increasingly challenging and demanding environment, our survival instincts are being put to the test and it seems that nature is our only hope...
The safari camp is, therefore, the ideal location to reconnect with the cycle of life, a place to contemplate the landscape and forecast the future of fashion. Travellers reflect a taste for the extreme experiences and a love for adventure sports, merging the hybrid idea of garments and accessories that play between the urban and the outdoor. They take their cue from our wild friends; walking, running, swimming and flying towards the fashions to come. A biosphere of inspiration is unleashed, from organic motifs and graphic markings to wornwear textures and wrinkled hides. Footwear, in particular, will profit from these multi-dimensional materials, taking outdoor runners and urban hikers to more tactile heights. A sudden shift in the wind will mark a change in colour, welcoming a family of beiges as the backbone of the summer season, with bright accents that are taken directly from nature.
Goddesses - Summer 2019
The goddess movement is responsible for a turnaround in fashion, which will have profound influences on the way women dress. The days of normcore and streetwise basics seem to evaporate in the face of a revolution in shape and making. The variations in cut, drape and fold are astounding and will give the skills of fashion design back to the professionals, away from the influencers. Editing is no longer the name of the game since brand new pieces will be introduced, able to silence all hashtags. Majestic fabrics and regal colours will lend allure to all women, able to enhance their natural beauty. You are invited to find your own goddess being, taste and pleasure within this trend forecast that will become a style bible for the years to come
Event Information

Event Information

Monday, 19 February, 2018 (All day)

Tuesday, 20 February, 2018 (All day)

Venue:
The Johannesburg talk will take place at LISOF school of design. On the 19th February
The event will take place at LISOF's Johannesburg campus, 6 Eileen & Geneva Road, Blairgow.
The programme will run as follows:
08:30 Doors open
09:00 Trends S/S 2019 "GODDESSES"
10:15 Activewear S/S 2019 "ON SAFARI"
11:00 Break
11:30 Home & Lifestyle 2019 "Spiritual House"
12:30 End
Li Edelkoort's Cape Town trend seminar will be held at Artscape Theatre Centre on 24 February.
The programme will run as follows:
09:00 Doors Open
09.30 GODDESSES colour & fashion S/S 2019
10.45 ON SAFARI activewear trends S/S 2019
11.30 break with refreshments
12.00 SPIRITUAL HOUSE home & lifestyle 2019
13.00 end