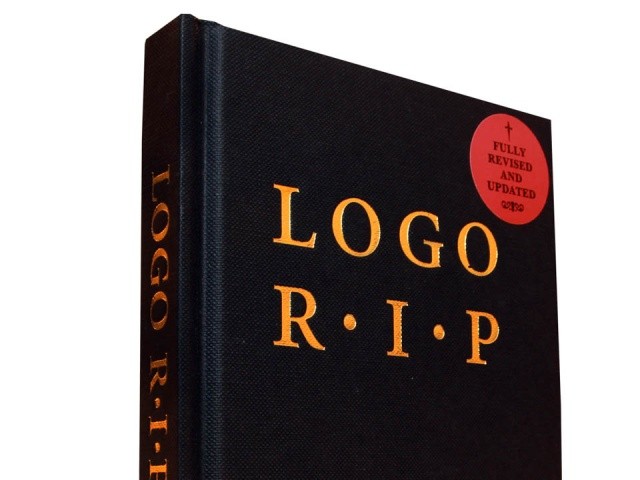 There are lots of things in life that are honoured or commemorated posthumously. As it should be. It is important to keep certain memories alive, or simply recognise the significance they enjoyed at some point in their existence.
Statues, arches, columns and graveyards are some of the ways that people and events are remembered. But in the ruthless business environment of today it has become important to honour and recognise another key feature of our social landscapes: the logo.
Logo R.I.P: A Commemoration of Dead Logotypes is an ode to the logos of days gone by.
Compiled by The Stone Twins, Declan and Garech Stone, Logo R.I.P is simultaneously a critique of corporate culture and a celebration of some of the most powerful logos ever created.
During the process of creating the publication The Stone Twins set up an online forum calling for diverse and interpretative discussion around logos. This provided a fresh outlook on refining and sharpening widespread understanding, making for a gem of a publication.
Published by BIS Publishers, Logo R.I.P recognises the memories, passions and reputations embodied in the visual manifestation of a brand or company's identity. From Kodak to Enron, Reuters, Rover, Commodore and more, 50 logos are given a tombstone in the form of a glossy page with a picture of the logo on a gravestone, together with a detailed written obituary at the back of the book.
For Gert Dumbar, who wrote the foreward, the book is about more than just recognising logos from the past but sees it as "an important alternative to the new trend in logo design that is marketing-orientated nonsense".
Dumbar further explains: "Many of today's solutions are produced by agencies that consist of a ratio of ten pin-stripes to every one creative. They are strategy-driven and lack stylistic durability, are missing concept, magic, wit, emotion or narrative – some of the major ingredients of a good logo."

Watch the Talk with Gert Dumbar