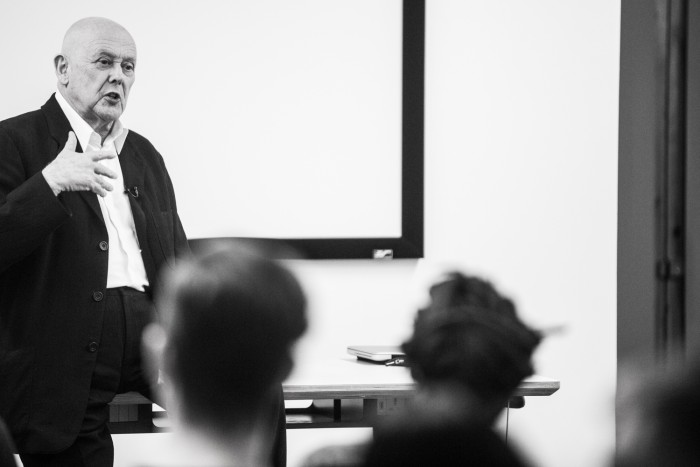 A designer's strength lies in their potential to bring noticing, observation and imagination to the world, according to branding legend Michael Wolff
As a young boy growing up in post-WWI Britain, branding legend Michael Wolff maintains that he first became a designer upon seeing and tasting an orange for the first time at the age of four. By feeling the smooth texture of the skin against the furry sensation of the pith, inhaling the foreign fragrance and experiencing the taste, "it was [Wolff's] first lesson in discernment and appreciation".
According to Wolff, this orange experience summarises the important characteristics that one must call upon in order to create: the ability to actively notice details obsessively, a sense of appreciation and empathy, and a desire to nourish one's imagination to provide fuel to create and support one's ideas. It is by channelling these qualities through a pervasive sense of curiosity, that has acted as the driving force behind Wolff's own design career.
While a designer's strength lies in their potential to bring noticing, observation and imagination to the world, it is a different strength altogether to utilise this originality and artistry for a client. Working within the remits of branding, there are two principles that are key to creating a brand: a company accepting predicament and exercising volition. To accept predicament a company must understand that a brand is the culmination of different predetermined and mouldable behaviours; to exercise volition a company understands that design is a crucial form of behaviour that it easily noticed and can play a large part in distinguishing a brand from its competitors.
As a co-founder of one of the world's most iconic design companies, Wolff Ollins, Wolff credits the company's commercial success with being one of the first companies to "understand the difference between positioning (what the company think the public want) and revealing (being who you are)". Rather than assisting in "putting on an act or buying an appearance" for a company, Wolff argues that talented designers use their creative originality to authentically reveal their client's own originality through design. When you meet a person, you would like to meet someone who is willing to reveal their true selves rather than someone who is putting on an act. The very same can be said for companies and brands.
With a career as aesthetically driven as Wolff's, it may come as a surprise that he professes, in a markedly Shakespearean and literary approach, "to be or not to be: that is the question" in high quality design. But perhaps design's strength really is as simple as that; designers pose the relevant problems and establish a balance between people and brands, enabling them the choice of whether "to be or not to be".
Michael Wolff presented as part of the Future London Academy's Design Thinking and Innovation course. For more information on upcoming courses see the Future London Academy website.
Watch the Talk with Michael Wolff