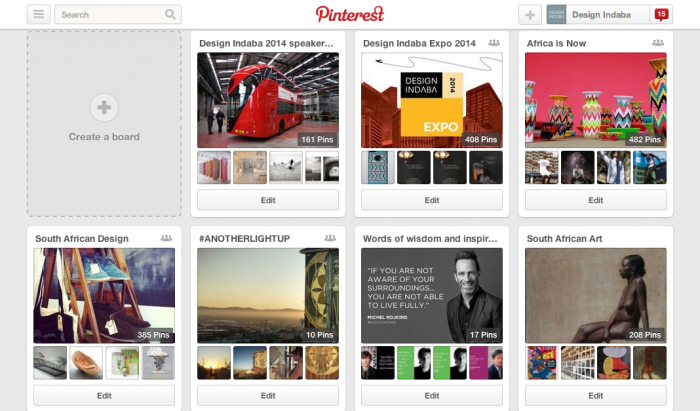 Pinterest can be used to make virtual mood boards visible only to team members.
Sometimes we think we need expensive software to do our jobs well and manage our creative processes. But there are many free alternatives available online, some so familiar that you may be overlooking some of the handiest assets in your toolbox.
Google docs (and Google Drive)
Design Indaba managed its entire production process and marketing plan for an app we built with Christoph Niemann and others last year using Google docs. A simple shared spreadsheet is a perfect way to manage tasks and timelines when working with a team remotely, not to mention collect data such as contacts, press links, useful resources and more.
Saving documents to a shared folder in Google Drive is also an even better option than Dropbox these days – because your storage space is greater and you can access it from any machine or device once you sign in to your Google account.
Then there's the fact that you can sync your bookmarks to any device for the rest of time… Did we mention that we love Google?
The humble screenshot
Ever been stuck on a computer with no Photoshop while working on a presentation or uploading content to the web? Apple-shift-4 is your friend – it's one up on the straight screenshot (Apple-shift-3) as it crops to the exact dimensions that you need. Remember to rename your file so no one knows your sneaky work-around!
Another ingenious way to use this simple tool is to compile a visual to-do list. See something online that triggers an idea? Screenshot it rather than getting side-tracked and save the task for later, right on your desktop where you can't miss it.
Pinterest
Apart from social sharing, Pinterest can be used to make virtual mood boards visible only to team members involved in a work project. From sourcing references for a campaign concept to saving examples of sites you like while designing a website and plotting the progress of a build, Pinterest is a great visual resource – and archive after the fact – for any creative project.
These are just three of many free digital tools at our disposal. What are some of your favourites?