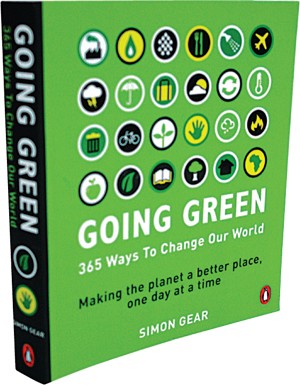 Going Green: 365 Ways To Change Our World by Simon Gear obliterates all silly excuses for not making simple changes that will benefit you, the planet and your fellows.

A locally specific, yet globally applicable, light read, this handy little book contains a plethora of ideas for getting you well on your way along the green path. It illustrates how a more environmentally sustainable life can still be a relatively normal one, only slightly gentler on the planet.

Not for the deep ecologists, this book does not offer full proof and comprehensive solutions backed by theoretical and empirical scientific data. The suggestions, such as to celebrate environmental holidays, shop sensibly, go on a carbon fast and visit world heritage sites, are infinitely doable. Environmentally aware pet keeping, entertainment and ways of eating form part of the arsenal of recommendations, accompanied by inspiring quotes, useful references and links to get you started. Actions such as managing and reducing waste and water use at home, maintaining comfy temperatures, saving electricity and gardening smart are proffered in bite-sized portions, making it easy to translate information into action.

It's a pragmatic, somewhat spiritual, and vibrantly humour-filled guide that aims to help readers save money, become healthier and happier, and, of course, more eco-friendly. A fantastic starter kit for any burgeoning greenie.