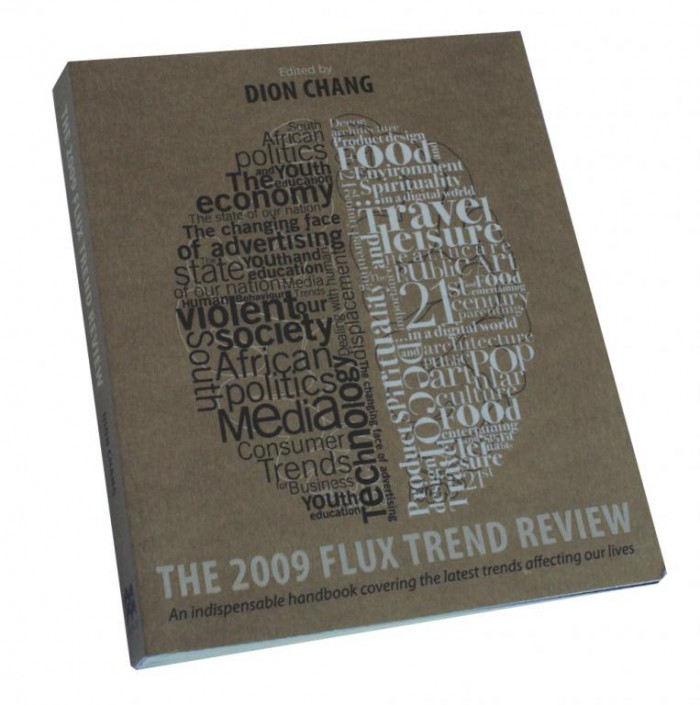 Fashion guru-turned-trend analyst Dion Chang has put together a series of essays on the way the world will be very soon in The 2009 Flux Trend Review. In the preface, Chang observes that 2008 was a difficult year to learn from. As a result he predicts that the younger generation will come to demand more action as styles of global leadership change, environmental issues move to the foreground of our consciousness and consumers become less passive.

The book is divided into two sections – a corporate review and a lifestyle review. Each essay is written by an expert in his or her field – Justice Malala, Ferial Haffajee, Toby Shapshak and Brian Steinhobel, to name just a few.

The corporate review looks at politics, the economy, healthcare and related matters and is in general very solid, with one exception: Edwin de Lange's frankly bizarre essay on "faithmentalism", which suggests that religion accommodate advertising opportunities as it is a "brand" in itself. To stuff one of the few remaining quiet spaces in human experience with jingles and inane messages is, in my book, plain Orwellian. This essay should have been omitted.

The lifestyle review is serious fun, from contemplations on the decline of gastroporn and luxury brands to the rise of compressed leisure, entrepreneurial societies and spirituality in the digital age. These well-researched essays are easy to read and easy to digest. In fact, there's a lot to nibble on here, for anyone interested in a taste of the future.

International trend forecaster Li Edelkoort has said, "People think I am some mystic or gypsy. But what I really do is pay attention. Then I have the nerve to say what I believe." Chang has amassed essays by people who pay attention and write what they believe. The result is a digest that will hopefully come out annually and tell us what we should be focusing our attention on. In the end, it's the things we pay attention to that we act on.