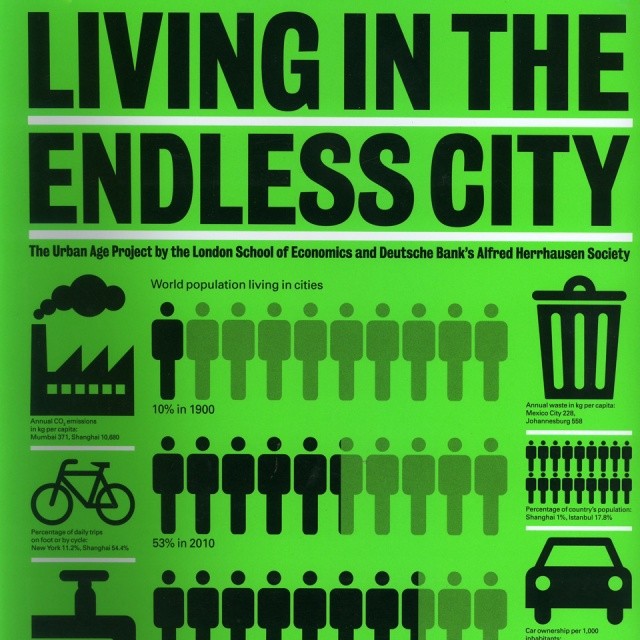 Living in the Endless City.
Numbers have a unique way of highlighting the importance and the urgency of an issue. A look at the statistics on urbanisation certainly raises a red flag for the need to re-look the global model of urbanisation.
The figures look something like this: Currently 53% of the world's population live in cities, though only 2% of the earth's surface is occupied by cities. Furthermore 33% of city dwellers live in slums, yet cities are responsible for 75% of carbon emissions. It's been reliably predicted that by 2050 75% of the world's population will reside in cities.
These are frightening numbers that point to various, and very obvious, discrepancies in resource allocation, as well as quality of life. Living in the Endless City, published by Phaidon, considers this challenge of people living in cities.
An extension of The Urban Age Project by the London School of Economics and Deutsche Bank's Alfred Herrhausen Society, Living in the Endless City looks specifically at three major cities, Mumbai, Istanbul and Sao Paulo. The book considers how these cities are coping with the urban influx from a social, economic and political point of view, and includes contributions from architects, mayors, urban planners, policy makers and more.
Edited by Ricky Burdett and Deyan Sudjic, Living in the Endless City looks at all the aspects of city living, from climate change to security. In examining the problems and considering various strategies and solutions the book makes use of essays, analysis, photographs, diagrams, statistics and more to demonstrate the link between the physical and social in cities.
While the reality is that cities are "becoming more spatially fragmented, more socially divisive and more environmentally destructive", the book inludes examples of ways in which cities have managed to overcome these challenges. As Wolgang Nowak says in the foreward: "Successful cities demonstrate the viability of social systems."
Living in the Endless City is the sequel to The Endless City, which looked at Johannesburg, Berlin, Mexico City, New York, Shanghai and London. Both works are aimed at understanding different disciplines in relation to urbanisation and contribute significantly tot eh global debate on the future of cities.