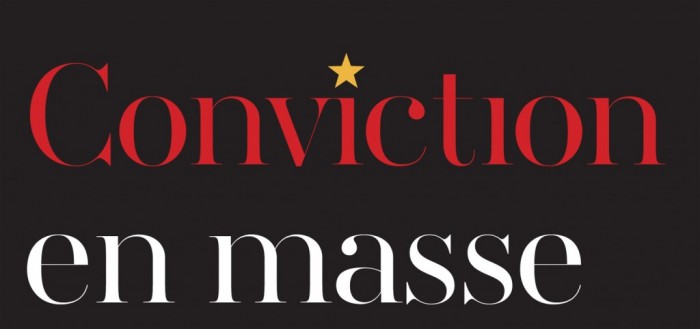 Conviction en masse
The challenge in engaging the creative industries in China used to be that they were so elusive and hard to find. There was even a (blinkered) view in parts of the global creative industries that China's creative culture wasn't quite there yet, rather in its early stages only just emerging from a copycat manufacturing culture.
Thankfully this myth is in the process of being dispelled and, from my point of view, should be thrown out entirely. In fact, there is an extraordinarily dynamic original creative culture in China, leading the world through its seamless fusion with the technology industries. You just need to know where to look.
And you need to understand an entirely new model of "creative entrepreneurship". The historical Western model where creative talents are guided to initially nurture their early ambition within a bigger agency environment (be it Andy Warhol or Stefan Sagmeister) to then take a leap to create their own business, doesn't explain the creative entrepreneur mindset in China. In China, although the creative industries may not seem as established, there is an astonishing sense of confidence and early independence that is sufficient to actually leapfrog the old system.
The closest parallel model to understand this dynamism can be found in Richard Florida's Rise of the Creative Class, an excellent analysis of the key cultural factors (technology, multiculturalism and the arts) influencing the most fertile creative hubs in the US and beyond. The key difference is that in China it's the whole population on the move vs just a city or two. It took Austin's SXSW festival 20 years to attract its 5-million visitors. The Blue Sky Festival north of Beijing achieved this turnout in just three years.
Seeds of this grassroots confidence were clearly already working in the early days of Beijing's creative real estate such as the 798 Art Zone in Beijing, the modern architecture collection in the Commune by the Great Wall and even the late night arts community at the Supper Club Hutong.
It was this humbling and exciting realisation that founded HuntHaggarty's research for the China's Creative Voice book. Our objective was simple: Immerse ourselves within the grassroots creative community to understand what inspires this unique community, what contemporary Chinese creativity and design means to them, what they really think of Western brands in China and, of course, why they are so happy going at it alone.
As the young illustrator Menz explained: "Those born in the 1980s are definitely very different. Since the political climate changed we can see more and, of course, attitudes have changed too. We are more humorous and look to be entertained."
From an entrepreneur's perspective, designer Di Fan added: "The reason I decided to start my own design studio was because there wasn't a design studio that was innovative or creative enough. I wanted to build an agency that is excellent at commercial design."
So what did we learn? More specifically, what trends drive this exceptional confidence and how can we as global creative entrepreneurs learn from it?
Seamless cultural fusion of the creative and technology industries
China has more people online than anywhere on the planet. Social networking and blogging is a daily pastime whatever your age. Everyone is happy to have a point of view and express it online. This cultural desire for self-expression gives young Chinese creative entrepreneurs an instant sounding board for their work from right across China and, increasingly, internationally. They don't need a creative director to tell them whether they are good or not, nor do they have to rely on a big break. They are putting their work on a national, even international, stage all the time and feedback breeds confidence and improvement.
Douban is an excellent example of such a stage as one of China's most popular social networks, especially valued by creative people. This is because of its more artistic and educational focus, including discussion groups on current affairs and new creative work that is capturing nationwide interest.
Flourishing cultural and national pride
If you walk through the newest shopping malls and see the LV and Cartier stores, it might seem that the era of "West is Best" is still going strong. Look instead in Nanluogu Xiang in Bejing, Changle Lu in Shanghai or OCT Loft in Shenzhen. (By the way, in case you still thought of Shenzhen as a backdoor, think again. In 2008 UNESCO named it one of its Global Cities of Design, one of only 15 in its Creative Cities Network.)
These are the true hubs of a new creative culture, proudly developing their own original Chinese expression – an entirely new take on the clichéd Mao propaganda on too many tourists' walls back home. For inspiring freedom of expression in product, fashion and graphic design, pop into Eno, The Thing, Source or Bye Bye Disco, and experience the source of pride yourself.
As Imagine Wong, a graphic designer, explained: "We support local brands more because it makes us proud of ourselves."
Subversive commercial creativity
Historically the established paradigm has been that high creativity and aggressive commercialism ran foul of each other, the creative idea ultimately losing out. Not so with China's creative entrepreneurs and the generation they engage.
Perhaps it is because they are such a young dynamic self-educated design community with little fear of failure. Not only do they not drift into the big safe agency world, but also they are likely to have several creative businesses running simultaneously. The products and ideas reflect their fearless liberated nature too. Have you seen the new It trainers that carry both the Nike and Adidas logos? Or the tongue-in-cheek city celebration T-shirts in the spirit of "I love NYC", instead stating "I love Shenzhen"? Drop into one of the I-Mart touring street markets to see the latest for yourself.
Nothing is sacred, East or West, as one person we interviewed explained: "We know East and West propaganda. 'That's so CNN' is a favourite saying for us, meaning 'that's total bullshit'." The creative opportunity is also very visible in the global brand activity in China – if you haven't see Ogilvy's Johnny Walker internet-only documentary series, you should. Who said 60-second commercials were as good as it gets?

So what
So what does this all mean for the global creative industries? Two ticks and a big 'watch out" in my view.
The ticks: The strength of creative talent in China now is every global brand's opportunity. Be it Lang Lang, the oh-so-hot classical pianist who has the best of Bieber and Bowie going for him, or the super-talented creative content designers at NeoCha. Gap's recent global campaign running in China was a commendable fusion of East and West, hats off to them.
The 'watch out": Get in on it and quickly; it's your responsibility. Immersion within this world is vital to taking the global creative industry forward. It's not about finding new pockets of inspiration; it's not about being Chinese. This is a moment in time that is about creating a new movement of global creative entrepreneurship fuelled by a brave East-West ideas exchange.