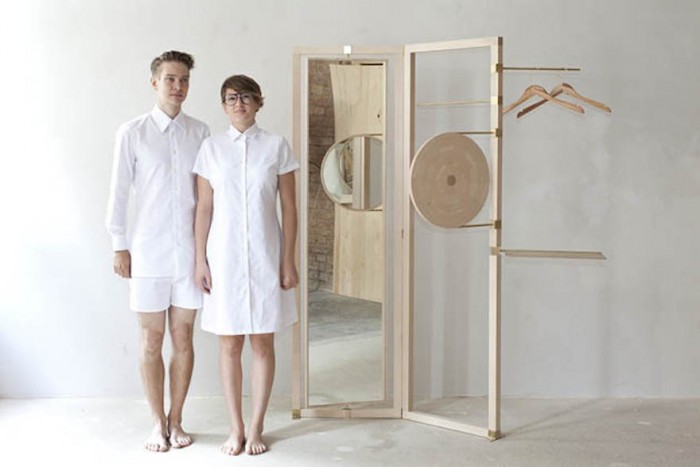 Ania Rosinke and Maciej Chmara are the designers behind internationally awarded, Vienna-based design practice, chmara.rosinke studio. The couple, who have been working together since their days at the Academy of Fine Arts in Gdansk, take a conceptual approach to anything they do, be it a project for an art gallery or an international brand. With a focus on research, Rosinke and Chmara describe their workshop as a place of experimentation filled with machines and in-progress design ventures.
A lot of what they do involves creating interiors, designs and pop-ups from concept phase through to creation. The work that best reflects the designers' flair for thinking outside the box is Mobile Hospitality (Mobile Gastfreundschaft), which was all about experimenting with social interaction, food, and simple design.
The designers carted around wheelbarrow kitchens and diners to engage with the public. They also set up social dining experiences across the city. As they sat and ate, passersby were invited to join in and get to know each other.
"The project pays attention to an important aspect of our design work – the responsibility and the self-initiative in public space," say the studio.
Although it is sometimes challenging, life as a conceptual designer comes with its perks. Rosinke and Chmara say they get a lot of freedom on projects where clients are often looking for a solution to a problem without defining the outcome. This gives the designers the opportunity to create something new and original with every job.
With a combined background in art, architecture and design, Rosinke and Chmara find that their multi-disciplinary skills offer an advantage in finding varied solutions to problems, allowing them to "sneak into different fields to understand people and their needs." The diversity of their talents means that they could be working on an illustration one day and building a house the next day.
The studio believes in the modernist philosophy of Gesamtkunstwerk, which is defined by the notion that an artwork can take on any form and be created using a synthesis of mediums.
"At Bauhaus school in the 30s, architects were painting, painters were practicing architecture and people didn't care. It's important that your work makes sense, that it touches people, and that it makes people think," says Chmara. To make his point, the designer says that he feels a chair can have as much of an influence over someone as a piece of art can.
Along with a few brand architecture projects, chmara.rosinke plans to launch a collection of glasses and furniture pieces in the near future.