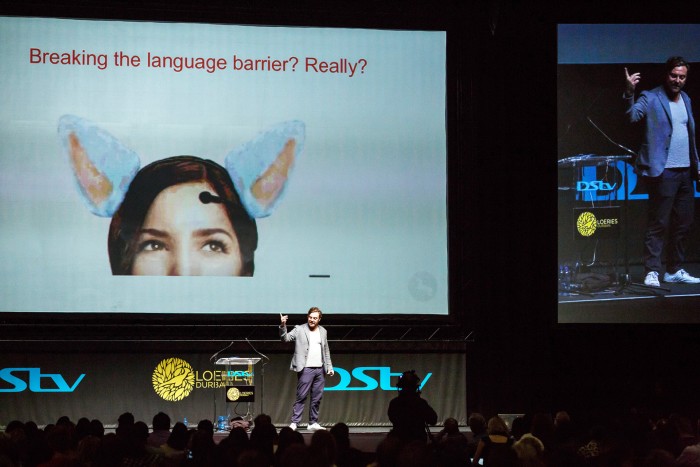 Chris Clarke at Loeries 2015 Seminar of Creativity
"The content model of the internet is broken," said Chris Clarke, speaking about the role of brands in curating culture and establishing thought leadership in a talk at the Loeries 2015 Seminar of Creativity last week. Determined by ad sales and aggregated content, "it has become a popularity contest," he says.
People are creative in a limited palette. Not only has our attention become fractured and atomised but our lives are being increasingly controlled by technology.
"Technology has huge potential for lifting people out of poverty," says Clarke, but unfortunately we face the problem that people create and share well-meaning content on social media – changing their profile pictures to rally for a cause or liking and favouriting posts – but few people are doing anything about it. Our email inboxes have become our daily To Do lists based on who shouts the loudest and we're too distracted by Buzzfeed's "Eight Reasons You Look Like a Washing Machine" to take any real, proactive action.
"Mainstream has always taken its energy from the underground," says Clarke. "But this is no longer the case. Instead of it being defined (as it was in the past) by people who read – people who understand the context of culture – we cede power to the aggregate of people's behaviour."
Misreported information blows up on blogs. (Take the recent Sandra Bland tragedy for example; rumours went viral on Buzzfeed, which New York magazine challenged as irresponsible journalism, but which itself was an idealistic response in a world where our biggest media platforms thrive off aggregated content, crowd-sourced from the lowest common denominator.)
This is not a good way to move culture forwards, says Clarke.
"People have always taken behaviour cues from brands that they follow," he adds. Kids and young adults in particular learn from brands. But now, brands are following kids: researching what is considered cool or desirable by their audience to dictate their creative direction. This will create a vicious cycle of endless repetition. Narcissus meets Sisyphus. Design by a committee of teenagers.
"No one is taking the lead."
Clarke thinks brands need to take ownership again and have more agency. Contrary to popular belief, "the consumer is not in control", he says.
On a similar note, working for brands with unsustainable business practice should not be something we do as creative individuals and agencies, or which we should accept. Clarke upholds that we all need to take more responsibility – in particular creative practitioners and brands who have the power to make a difference.
Creativity can no longer be morally neutral.
Clarke uses the example of DigitasLBI's Cannes Grand Prix-winning campaign "Take it From a Fish", which saw a brand changing health outcomes through social media and service design by positioning itself as a proponent of healthy eating.
Brands can and should make a positive impact on people's lives, not simply encourage mindless consumerism with the single-minded goal of the bottom line.
In another controversial campaign, Taco Bell had a complete blackout on social media to launch their new app, using it as the single channel to communicate with its customers. Ironically, the #onlyintheapp hashtag trended on social media and made it to prime-time TV news. Clarke cites this as an example of a brand taking control of its own messaging – rather than reacting to the dictates of its audience.
"If brands want to be part of culture and be part of people's lives they have to commit," says Clarke. "Be counterintuitive. Be in less of a rush. Don't give all the control to the consumer."
Clarke ends with a bold call to arms:
Be the lightning rod. Galvanise attention.