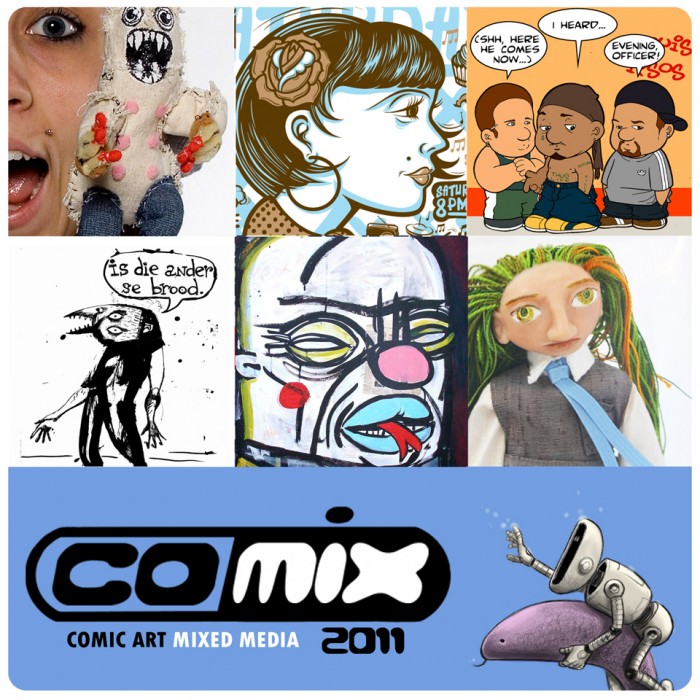 In the cold winter season many little creatures go hiding away for their winter hibernation. But not the colourful and interesting Woo-men characters.
The Woo-men Plush Toys are heading to Grahamstown for the National Arts Festival and the Co/Mix Exhibition that they are co-hosting.
The Co/Mix Pavilion on the Main Festival programme incorporates a large group exhibition with some 230 artworks, a workshop programme, seminars and a gallery shop. Local cartoonists and illustrators, including Zapiro, Anton Kannemeyer, Ricon Schacherl and Mogorosi Motshumi, will be showcasing their work.
The initiative also raised funds to bring out six international artists, including JP Kalonji (Switzerland), Erik Kriek (Netherlands), Jaques de Loustal (France), and Maia Matches (Netherlands).
Woo-men Plush Toys will be for sale at the Gallery Shop, where they will also be presenting two exciting new products. Woo-men is running 4 Blank Toy workshops at the festival in which anybody from age 10 upwards can come and create their own plush toy from scratch.
For Pete and Elaine Woodbridge, the creatives behind the Woo-men range, it has always been important to keep their toy-making and design business close to the art world from which it draws inspiration. Elaine explains that they have always regarded their work as belonging to the comic industry and saw this event as an opportunity to promote the local comic industry. She says: "Co/Mix was conceived as a bringing together of pop culture, expressionist comic art, political and underground cartooning and contemporary visual subcultures such as street, surf, hip hop, Indie craft and graffiti."
The Co/Mix Exhibition will be open from 30 June to 10 July 2011 in the Thomas Pringle Hall and Ntsikana Gallery at the Monument. You can read more about it on the Co/Mix blog.
To view some of the designs, visit the Design Indaba online shop.
Watch the Talk with Jonathan Shapiro