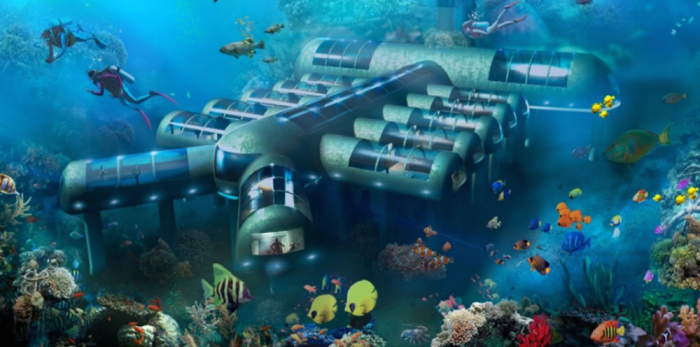 This 12-room, $20 million hotel will be nestled underwater.
Inner space tourism is a phrase used by Tony Webb to describe a new innovative concept that will see the world's first underwater hotel constructed in Key West, Florida. Webb, the leader behind Planet Ocean Underwater Hotel is better known for his exploits in space exploration as the sponsor of the SYNERGY MOON project, an official entrant in the race to land a robot on the moon. In his new endeavour, he will spearhead the construction of a $20 million hotel, 8.5 metres underwater.
The ambitious project recently received patent approval and the flagship hotel will be tested once the final phase of the regulatory process is completed, namely securing permit approvals from a Caribbean island nation. It will be based in Key West before being shipped to its next location. It's expected to open the bidding to countries around the world, to give all adventurous explorers the chance to experience its unique ocean views.
"We have selected a superior international location for our test site for the single unit hotel," Webb says, "and once the permit is issued then the countdown clock begins."
The hotel is classified as a vessel because it can navigate ocean waters using electromechanical propulsion technology. That also means that the hotel can seek a safer location in the event of a storm.
Described as affordable, the hotel is not only interested in providing a one of a kind experience. The philanthropic goal is to give back to the planetary community through Biorock coral reef restoration of the world's endangered coral reefs.
Climate change has resulted in a change in submarine temperatures, which has led to the bleaching of the world's coral reefs. The Biorock process uses a small electric current to grow marine-ecosystems. The structure grows more or less without limit as long as current flows.
"We will provide the protection, management and expansion of the most fascinating hotels on the planet," says Webb.