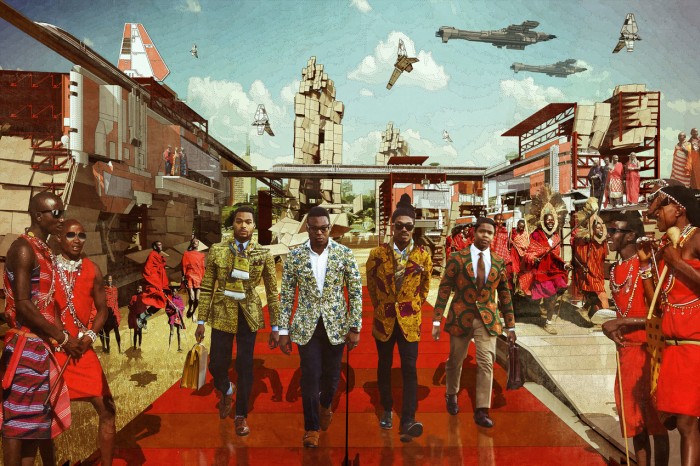 Nairobi 2081 A.D. (Escape to New Lagos series), illustration for the lookbook of the Ikiré Jones Fashion Collection, Vigilism, 2013 Copyright: Olalekan Jeyifous [vigilism.com] and Walé Oyéjidé [ikirejones.com].
A major exhibition by Vitra Design Museum in spring 2015 will shed new light on contemporary design in Africa. The illustrious museum in Weil am Rhein, Germany, tends towards the high priests of European design such as Jean Prouvé, Gerrit Rietveld and Rudolph Steiner in its curatorial focus. Making Africa – A Continent of Contemporary Design, from March to September 2015, will be dedicated to creative output from the African continent (and comes hot on the heels of Architecture of Independence, a survey of post-colonial modernist architecture from Central and Sub-Saharan Africa).
The exhibition is curated by Amelie Klein with Okwui Enwezor, director of Haus der Kunst in Munich and director of the 56th Venice Biennale in 2015, as a consulting curator and architect David Adjaye and curator Koyo Kouoh as advisors.
"Making Africa will show a large body of work that will present Africa as a hub for experimentation and for pioneering solutions that have an impact on the rest of the world," says Reiner Packeiser, head of the museum's exhibition department.
Rather than focussing on humanitarian design, traditional crafts or recycling, the exhibition will showcase "a new generation of creative professionals on the continent, who make evidence for how design accompanies—or even facilitates—change in Africa".
As group they are digital natives whose work crosses disciplines and forces the West to question its own categories of design practice. "They are stretching the boundaries between analogue and digital design fields, fine art, photography, film, music, architecture and urbanism," says Packeiser.
This multidisciplinary approach questions the traditional definition of industrial design, forcing us to broaden our understanding of what design can and should be in the 21st century.
The exhibition will feature a very broad selection of work: the furniture of Cheik Diallo, from Mali and based in France; eyewear sculptures by Kenyan artist Cyrus Kabiru; the work of contemporary Mozambican photographer Mário Macilau and Nigerian Okhai Ojeikere, who died earlier this year and was well known for his photos of elaborate African hairstyles; the architecture of Francis Kéré, David Adjaye and Kunlé Adeyemi; the remarkable cardboard city models of Bodys Isek Kingelez; and the animation art of Robin Rhode, a South African based in Berlin.
The exhibition will seek to contextualise contemporary developments in the larger cultural and historical framework by looking at work by the first generation in post-colonial Africa. These include Cameroonian photographer Samuel Fosso; Malick Sibidé, famous for his black and white portraits of nightlife in Mali; and sculptor El Anatsui, whose shimmering wall hangings made from thousands of discarded bottle tops have been exhibited to international acclaim.
The exhibition will tour internationally until 2017 or 2018, with the Zeitz MOCCA in Cape Town being one of the institutions reported to be interested.
The museum is tapping into know-how and expertise from all parts of the African continent and reaching out to a large number of African theorists and practitioners in design, art and new media.
With discussions under way for stops at the Guggenheim Museum in Bilboa and the Centre de Cultura Contemporània in Barcelona, the show will go a long way towards exposing the rest of the world to the innovative thinking emanating from Africa.
"These young creatives present themselves and their work to a global audience," notes Packeiser, "hence opening up a new conversation and inviting us—the rest of the world—to adopt a new perspective on Africa."
Watch the Talk with David Adjaye
Talks
• Duration: 00:43:07
•
9 May 19