Not only does architecture and décor magazine VISI have new owners (New Media Publishing), the glossy title also has a brand new look.
Bright, bold and daring, the "new" VISI still has all the old favourites – the best in South African architecture, interiors, décor and lifestyle news.
A new masthead is also part of the magazine's new image, and it's designed by Garth Walker. Walker's not the only big-name South African creative whose talents adorn the new VISI. In a first for the publication, leading writers and bloggers share their thoughts and experiences – in this edition, on the concept of "home".
The notion of home extends to include a place for our furry best friends. When a mysterious black box arrived at the Design Indaba offices last week, bound with a bow and engraved bone pendant, the new-look VISI was not our first guess as to its contents. But there it was. Upon investigating, we discovered not only does the magazine's cover image feature a pooch, but also has a trail of canine-cool running through the publication. We'd tell you more but wouldn't want to ruin the surprise….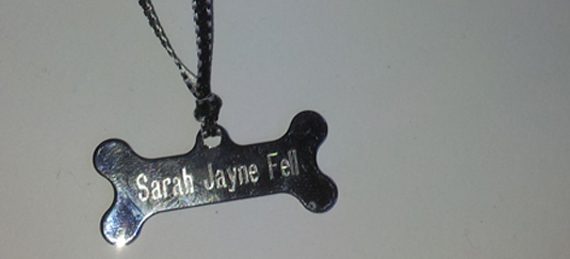 The engraved pendant sent with the new VISI magazine.
Highlights in the Winter 2012 issue include a stunning Cape Town interior by Tracy Lynch, a magical mosaic garden on the Kenyan plains, and a bold mix of patterns, products, colours and styles, among the 192-page feast of visual delight.
And just in case you were feeling nostalgic about the VISI of days gone by, there is the "33 Reasons to still love VISI" feature, which rounds this issue off with a lust-have selection of design products, trends and places. The 33rd reason to still love VISI is because they take us e-shopping.
Under the editorial reins of Sumien Brink, VISI will hereafter publish four seasonal issues a year, as well as two special-interest publications.
Watch the Talk with Tonic Design