Some 18 months of research into how informal communities can be improved has culminated in Urban-Think Tank's exhibition highlighting possible, positive implementations for those in need.
The exhibition, TORRE DAVID – Informal Vertical Communities presents new suggestions on how existing structures in today's cities, such as parking garages, can be transformed into housing and recreational spaces. It lays out several interventions on varying scales that aim to improve the lives of the nearly 3 000 inhabitants of the Torre David building. Visitors are presented with what is possible for impoverished areas and how they are able to aid in improving various spaces.
TORRE DAVID – Informal Vertical Communities is currently on display at the Aedes Gallery in Berlin, Germany until 20 August 2013.
Read more about the exhibition and Urban-Think Tank's Torre David project here.
Watch the Talk with Alfredo Brillembourg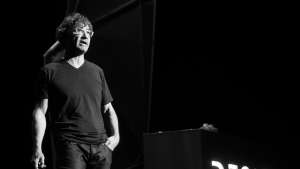 Talks
• Duration: 00:43:27
•
11 Nov 16