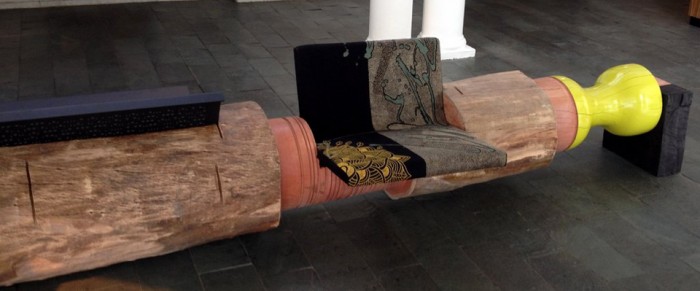 Hand embroidered textiles meet crafted furniture in Kaross and Goet's collaboration at Design Indaba Expo 2013.
The two Johannesburg-based studios first collaborated at Design Indaba Expo in 2012. They decided to do so again this year, having found the partnership to be a natural extension of each company's desire to uphold and celebrate the art of handcraft. The studios also share a commitment to produce unique, natural and contemporary furniture pieces and décor accessory ranges.
Kaross creates tableware, homeware, art pieces, wall hangings, bed linen and fashion accessories from hand-embroidered textiles, while Goet's range varies form beautifully crafted furniture to designer light fittings.
The collaboration sees the extension of Kaross and Goet's Veld range, a series of embroidered fabrics showcasing the sophistication of the collaboration as well as retaining the original beauty seen previously in traditional creations.
The "Too" chair and bench is a focal point at the Expo as a result of the exposure it has given the companies. The "Too" is made using Kaross embroidered cushions and Goet's chair and bench silhouettes, bringing a little bit of South Africa into any interior space.
Kaross and Goet are expanding their collaborative efforts this year to incorporate a children and babies' range of furniture and decorative accessories. The venture highlights a truly contemporary South African interpretation of children's furniture through combining the appeal of modern furniture design with the tactile elements found in handcrafted textiles.
Kaross and Goet's successful collaboration emphasises the desire for innovative design partnerships in South Africa, and its popular response among locals and internationals alike.