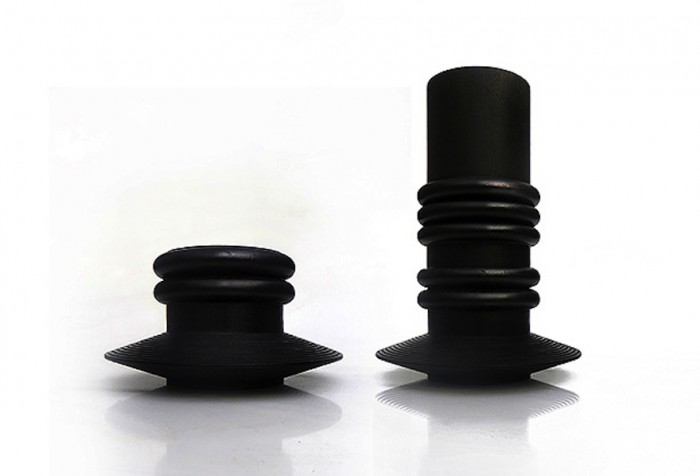 Tropical Noire collection by Simone Brewster.
Simone Brewster's Tropical Noire collection of sculptural vessels, which launches at London Design Festival today, bring to mind the simple iconic shapes and geometric adornments of pots and woodcarvings from Sub-Saharan Africa.
The British jewellery and furniture designer's work as a whole draws attention to the artefact's relationship with the body and space. With their totemic proportions and stark silhouettes reminiscent of ancient Greek vessels, the Tropical Noire vessels create a lively interplay of negative spaces when grouped together.
The collection is crafted from tulipwood and maple wood using a combination of traditional hand lathing and machine CNC technology. An architect by training, she describes her work as "intimate architecture".
"Coming from an architectural background, when making and designing, I approach the object from the space it will inhabit and the atmosphere I want it to generate. The bold forms typical to my work create strong and timeless pieces," says Brewster.
Tropical Noire is on display in the Craft Council's Corner Shop in London's Clerkenwell Design District until 21 September 2014. The shop is transformed into a tropical rainforest with a site-specific paper installation for Brewster's new collection.