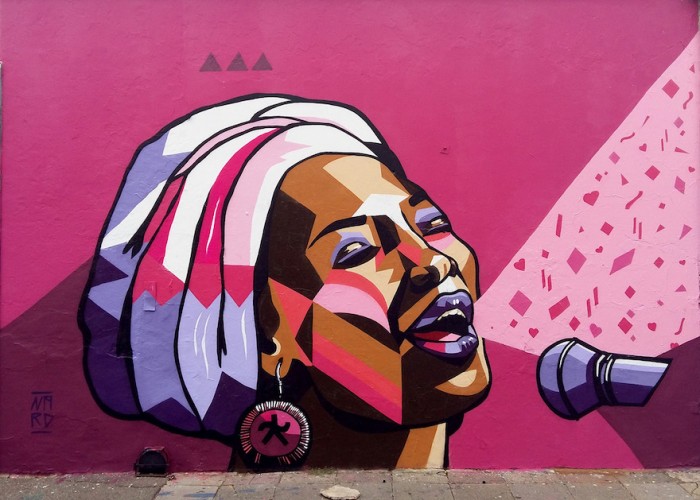 The streets are for everyone but the City of Cape Town's empty promises are holding back progress, said South African street artist Nardstar. I visited the artist's workspace at Side Street Studios in Woodstock, Cape Town, the unofficial home of art in the city.
She shares the renown for South African street art with graffiti heavyweights like FaithXLVII and Freddy Sam but she is still one of the very few female artists to make a name for herself in the country.
Now, while the city's graffiti bylaw continues to stifle the street art scene, Nardstar hopes to encourage female artists through representation.
"Right now I'm focussing on portraits of women of colour because I feel it's important to me as a female, coloured artist to represent women that look like me especially since I am always like one out of a million men," she explains. "In this industry, there are more men and even in the art world, there's more male than female artists."
I feel like it's important that women see themselves celebrated on walls and in public spaces.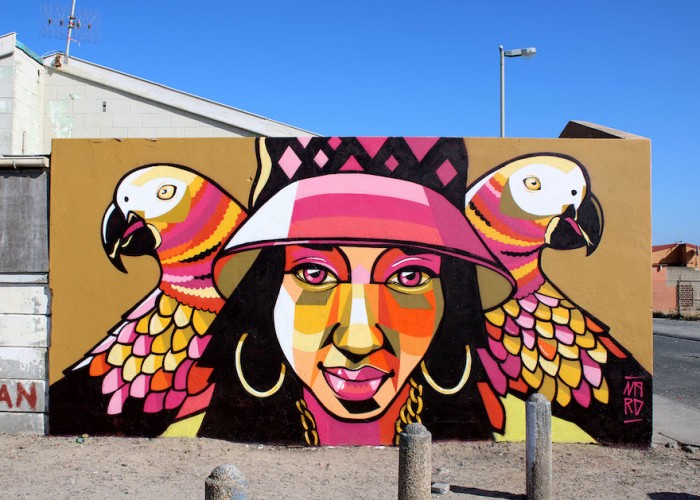 That gender inequality comes through so strongly in her new work doesn't surprise me. "It's a hot topic right now, but we've all been living it for too long," she explained. What does surprise me is her demeanour. Barely audible over the hustle and bustle of the street below, her soft-spoken nature belies the boldness of her work.
Nardstar is known for neat lines, vivid compositions and honest portraiture. Her animal murals can be found in New York, Paris and her hometown. By staying true to her signature style, she juggles passion projects and commercial work.
"There's two sides to it. There's the pure side which is just me painting in the street. I'll find imagery that inspires me or choose content that I think will be impactful of the street," she explained.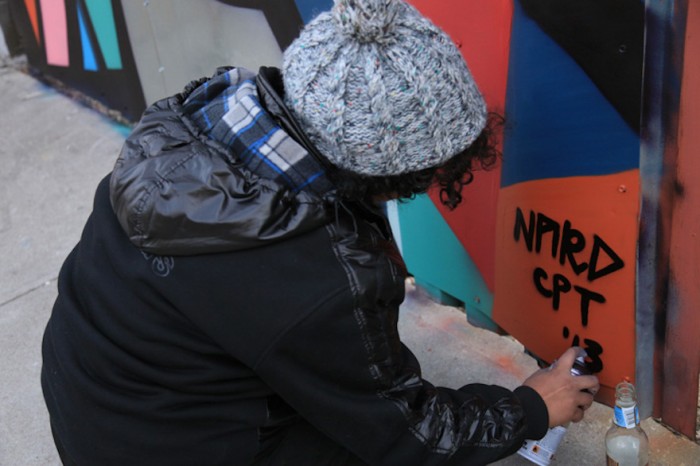 "From that, I started getting approached by clients. The one condition I have when I do jobs is that it must not deviate too much from what I'm painting on the street. When people want work from me it's because of what they've seen me create on the street."
But, she says, something needs to change at a policy level if we're to make this already misogynistic industry accessible to more diverse artists: "The city of Cape Town is not pro-graffiti. There is a graffiti by-law. There has been a huge graffiti cleanup in the city. Open walls were promised but that hasn't become a reality.
"We need to create programmes and workshops where girls can feel comfortable, be a part of it and get involved. What is stopping them from taking that step and having that confidence to pick up the cans and not be scared?"
More on street art:
Street art as a form of meditation
Judith Kaine taking arts to the streets of Rwanda
Spanish mural artist uses the medium to bridge cultural borders