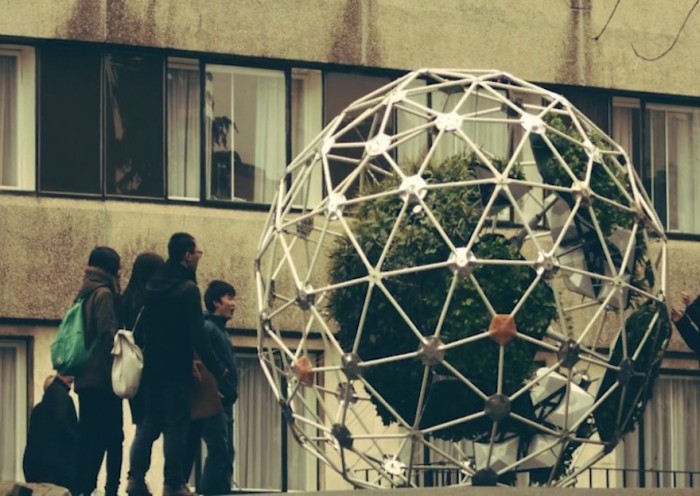 reEarth image by Interactive Architecture Lab
reEarth is a project by William Victor Camilleri and Danilo Sampan from the Interactive Architecture Lab at the Bartlett School of Architecture in London. It is an intelligent spherical garden that relies on sensor technology to roll around in search of the ideal conditions, location and environment for the plants it houses inside. In a way, the invention enables plants to think for themselves and inspires more investigation into the future of autonomous farming.
The reEarth sphere is made up of twelve garden beds, each containing a different plant species indigenous to Britain. Each bed is connected to a rod-like motor device, which extends outward to set the whole sphere in motion. The sensor technology reads the needs of the plants and activates the rods should the sphere need to be reorientated to find more sunlight or water.
Aside from being an interesting interaction design subject when released into public, reEarth is a project that takes a closer look at the possibilities of autonomous farming. In the future farmers may not have to depend on human instinct to take care of their crops if sensor technology can supply them with accurate agricultural data and tell them what their plants need to produce an abundant harvest.
We can no longer count on seasonal weather and time-old methods to grow and produce plants. It's important that what we grow is able to adapt to the changing environment. Technology like reEarth could revolutionise farming in the face of climate change and create new opportunities for re-greening our spaces.