Indian architecture studio Archiopteryx has created an eco-smart home in Noida, India, that's designed to maximise sustainability. The People Tree House was designed for a couple of medical entrepreneurs and their young family living atop a clinic. The unique vertical design is in response to the limited plot space, as well as the desire to create a home that has the ability to generate energy, catch rainwater and irrigate plants. And when it comes to light, the space includes a slew of windows and skylights that control natural sunlight exposure throughout the year.
Archiopteryx, a multidisciplinary architecture and design studio founded by Akshay Shrinagesh in 2002, designed the home to fit in Noida, Uttar Pradesh, a planned city that is organised on a series of grids. With limited ground-floor space available, the house is arranged over four floors above the clinic, which occupies the ground floor and basement, around a central cylinder with a spiral staircase and elevator.
The first level hosts the kitchen and living space and a bedroom, while the second is home to two en-suite bedrooms. The third floor, which is a rooftop of sorts, houses a splash pool, the rainwater-collection system and solar panels, and the fourth floor — a mezzanine level — contains a study.
The intricate water-harvesting and electricity-generating system is integrated into the rooftop area, with a curved ramp next to the splash pool. The carefully designed ramp, along with balconies that contain pools and planters, captures rainwater, which collects in a tank on the upper level. In a circular storage-and-use cycle, the tank connects to a bright red pipe that runs through the middle of the house and doubles as a functional staircase handrail. The curved ramp is also positioned to hold five solar panels that generate electricity for the home and clinic.
'The building focuses on the effects of nature and the natural, on form and function, and on the quality of life of the human being,' says Shrinagesh.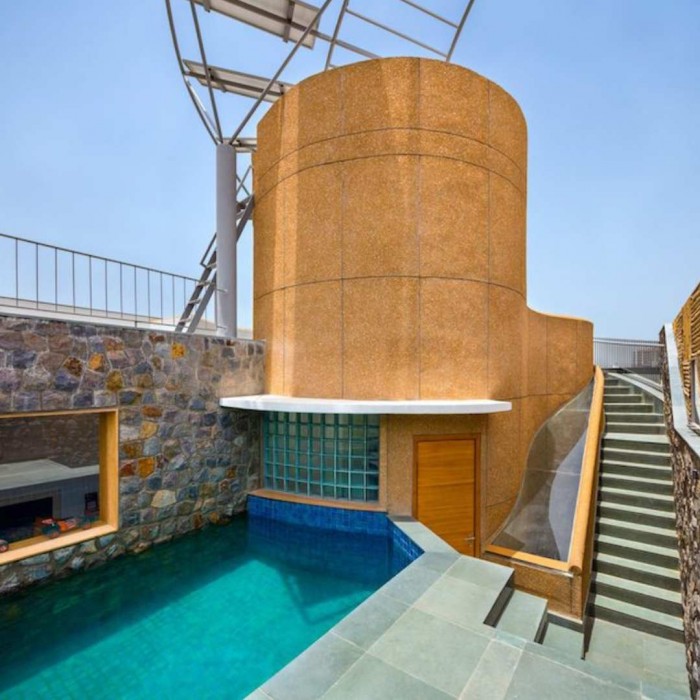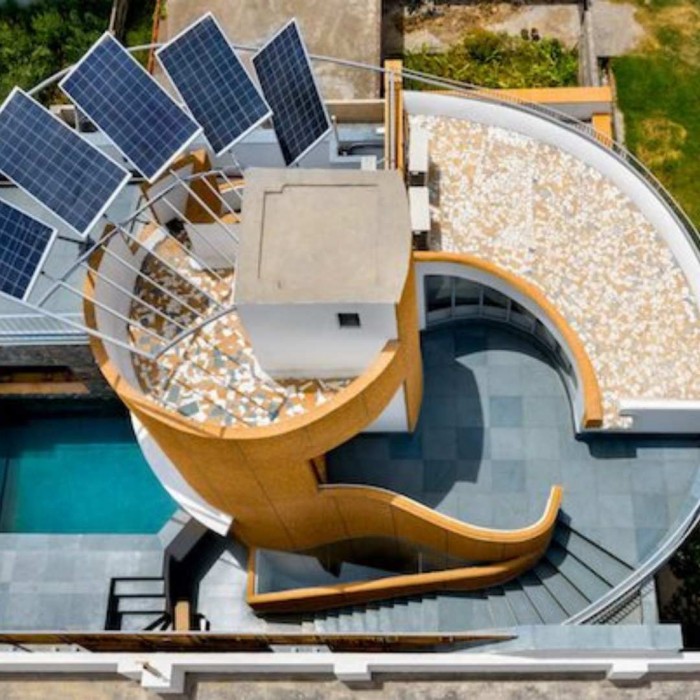 Read more
Photographs: Andre J Fanthome, Archiopteryx.