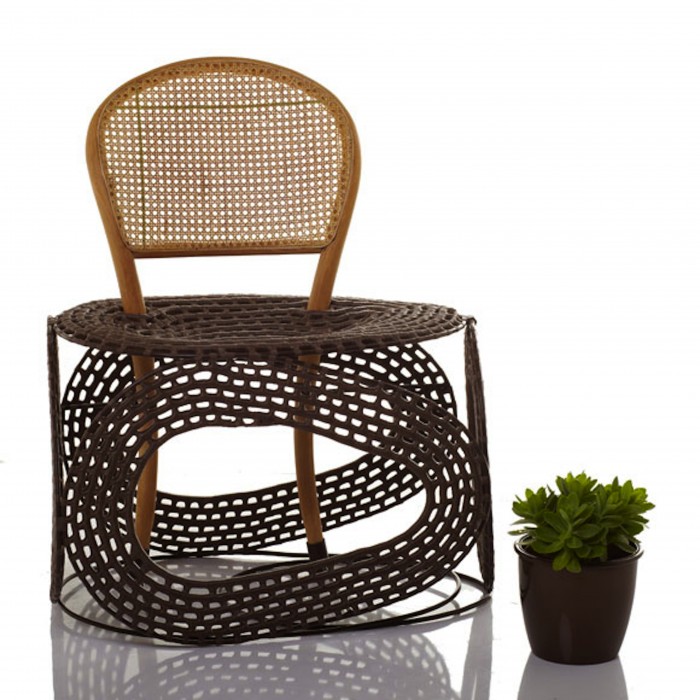 Chairman by Nawaaz Saldulker.
"What do you get when you cross a chair with an ottoman?" A Chairman, of course!
This observation was the departure point for Nawaaz Saldulker, a graduate of the Design Time School of Interior Design who was also part of the 2013 Emerging Creatives programme at Design Indaba Expo.
Chairman, an upcycled seat suitable for both indoor and outdoor use, was the outcome of a competition brief calling for an "avant-garde object for the living room".
The materials Saldulker used for this reinterpretation of a chair were limited to wood from a responsible source and used or upcycled plastic. By first questioning popular views on waste, packaging and ecological challenges, Saldulker became increasingly interested in investigating how objects, rather than being thrown away, take on different lives.
He went to work, scouring the second hand shops in Woodstock for a bentwood chair. The one that was ideal for what Saldulker had in mind turned out to be one where both the front legs and the seat was damaged but the backrest was still in place.
Saldulker started with the backrest and created a new seat and legs for the chair, using strips of plastic made from 100% recycled plastic bottles and caps. The plastic was sourced from a company in Durban. The next step involved weaving the plastic strips into oval shapes of three different sizes. The strips were woven using the basket weave technique of coiling, which allows for great rigidity. The one side of the chair is also able to fold out, serving as a little table, or a potplant holder!
The basic frame was made out of a mild steel, which was then powder-coated. The ash bentwood backrest was then inserted while constructing the seat section.
Ironically the Chairman was not ready in time for the competition deadline. Instead Saldulker submitted the Chairman for considered inclusion into Li Edelkoort's Totemism: Memphis Meets Africa exhibition at Design Indaba Expo 2013 for which the piece was selected.
"The reaction to my design has been overwhelmingly positive," says Saldulker. "Most people cannot believe that Chairman is a local design!"
The Chairman can be purchased by contacting Saldulker directly at nawaaz08@gmail.com.