Battersea Power Station was once the largest power station in the UK. This humongous Art Deco marvel on the south bank of the River Thames supplied London with electricity for over 50 years, until it closed down in 1983. After almost 40 years of disuse, the Grade II* building (regarded as a particularly important building of more than special interest in the UK) has been redesigned by architecture studio WilkinsonEyre and opened to the public as a shopping, living and leisure complex.
The monumental revamp of the historic building includes the addition of a glass viewing lift. The lift takes visitors to the top of the rebuilt chimney of the power station. During the 10-year rebuilding project, the four original white chimneys of the station were dismantled and rebuilt – with the northwest one now being home to Lift 109.
Designed by Ralph Appelbaum Associates, Lift 109 opened on 15 November 2022.
The glass lift travels 109m – hence the name – up the chimney before emerging at the top, where it offers 360-degree views of the surrounding city. Inside the chimney, as the lift rises, a series of fluorescent red lights line the walls in an effort to mimic electricity generation and enhance the ascent, while a soundscape contributes to the overall experience.
The power station's magnificent Art Deco Turbine Hall A, where visitors enter the lift, has also been transformed into a multi-level museum that was designed in collaboration with digital studio Squint/Opera. The museum contains a curated exhibition of original records and multimedia displays that narrates the building's rich heritage, as well as an interactive display called Powering London that aims to explain how the power station worked.
Battersea Power Station sits at the centre of a wider redevelopment plan that will contain more homes and buildings. The site has been on the receiving end of harsh criticism due to the lack of affordable housing – only nine percent of the homes are affordable, which is below the 15% originally agreed upon – and because of the transformation of a historic site into a 'shopping mall'.
Tickets for Lift 109 can be purchased online at https://inda.ba/3u34CtE.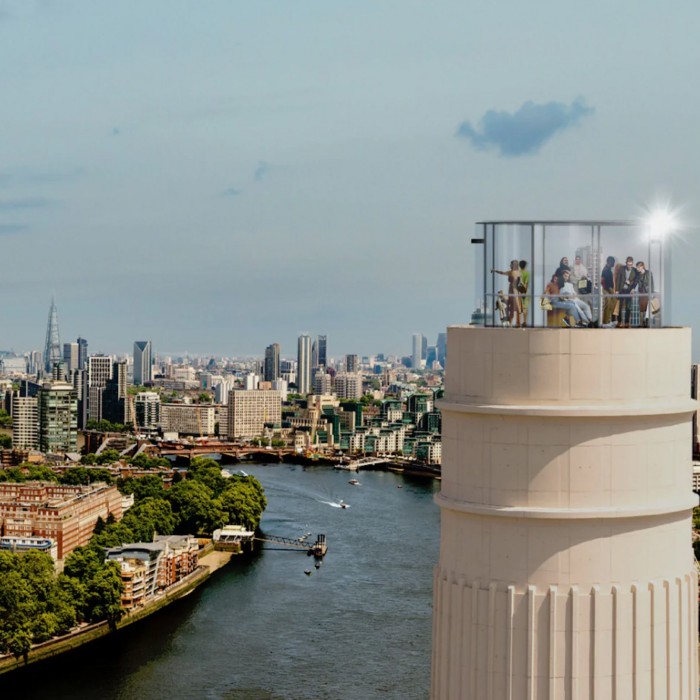 Read more:
Credit: Battersea Power Station