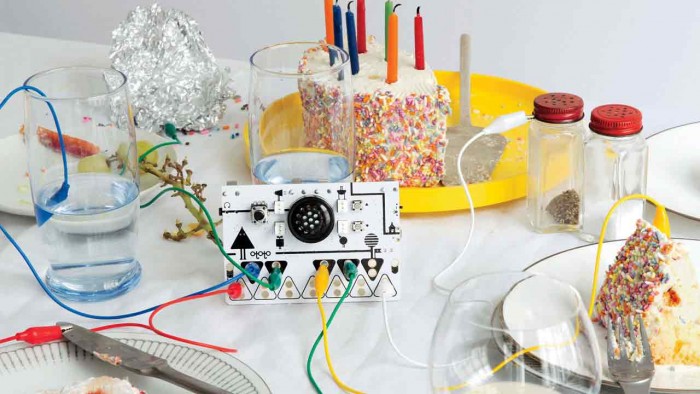 OTOTO is a musical invention kit which allows anyone to quickly and easily create their own electronic musical instrument.
Yuri Suzuki, a Japanese, London-based designer and sound artist has been around for over a decade. His eponymous design studio is behind numerous sonic installations, workshops and experiments. Suzuki has now officially been announced as a new partner at global design firm, Pentagram.
His work has been showcased in several museums, including Tate Gallery in London and the Museum of Modern Art in New York. He'll be joining 12 Pentagram partners in their London office.
"I am excited to join Pentagram for this new chapter of my practice," says Suzuki. "Having run a solo studio for so long, I am totally excited to have the opportunity to create alongside so many amazing partners."
Suzuki and his team will head the installation, interaction and product design department, where he will continue to create immersive experiences by means of art and technology.
Pentagram is seen as prominent in the global design scene and its partners have worked with many big companies, such as The New York Times, DC Entertainment and Warner Bros. Pictures.
Pentagram was created as a way for designers to work both independently and in collaboration. The firm is over 40 years old and continues to push boundaries within a multi-continental space.
There is a high level of anticipation with regards to Yuri's presentation/acoustic whimsey at the upcoming Design Indaba conference. Here's more about three of his most interesting projects:
OTOTO
Developed in 2013, OTOTO is a kit that turns anything into a musical instrument. The kit comes fully functioning. When touched, it makes a sounds. Using crocodile clips you can connect conductive materials together, from random spoons to fruit, and use them to trigger the notes.
You can quickly make anything, from a drum kit of saucepans to origami that sings when touched. In 2014, the kit was acquired by the Museum of Modern Art in New York as part of their permanent collection.
The Pyramidi
In 2014, Suzuki worked with US musician Will.i.am to produce a series of robotic, mechanical instruments that would play themselves.
For this project, he also worked alongside designer Alex Bygrave and British musician Searu to produce a series of instruments, which included guitars, drums and an electric piano.
The installation was created for an exhibition at the Digital Revolution show at Barbican in London and was surrounded by a 6-foot tall, 3D animated will.i.am in ancient Egyptian headdress.
Synth Play
In Synth Play, people can use their own physical movements to generate music. Implanted sensors in giant inflatables activate when moved. But it's not only sound. The movement also activates lighting and smell, giving participants an all-round sensory experience.
"When you entered the installation it was up to the visitor to change the atmosphere, exploring your nostalgia and creating a whole new environment depending on the sound or smell," says Suzuki.
Synth Play is a collaboration between Suzuki and Chinese tech company, Raven, who is known for developing operating systems surrounding artificial intelligence.
The installation was showcased in 2017 at the We Are Robots music festival in East London at the Truman Brewery, where people from all around the world came together to examine the future of music.
Suzuki will join a number of innovative designers at the Design Indaba Conference 2019. Check the line-up and book tickets now.
Watch the Talk with Yuri Suzuki