One in three people with Parkinson's is likely to experience a condition known as Freezing of Gait (FoG), which is one of the most disabling and misunderstood symptoms of the disease.
When FoG occurs, the patient is unable to move their feet when trying to walk. This leads to spasmodic episodes and leaves the sufferer feeling as though they are stuck in their own body.
There are few known treatments for FoG because of its unpredictable frequency.
Ashwin Narayan, a PhD student in biomedical engineering at the National University of Singapore, has developed a walking aid with extra sensory functions to help with FoG.
Known as the Parkinson Smart Cane, it detects FoG through the use of force sensitive resistors. The material's resistance changes when a force, pressure or mechanical stress is applied.
He also used an inertial measurement unit that measures acceleration and angular velocity. Both of these can be found in the handle of the cane.
Uploaded by RationalAsh on 2018-07-15.
What makes the cane (which he first developed in 2016 while still studying at the National Institute of Technology in Tiruchirappalli, India) different from other devices is that it is portable.
The sensors in the cane include visual, auditory and tactile sensory cues. Each cue has its own purpose.
For a visual cue, the cane holds a laser pointer that projects a guiding line onto the floor, which will give visual feedback.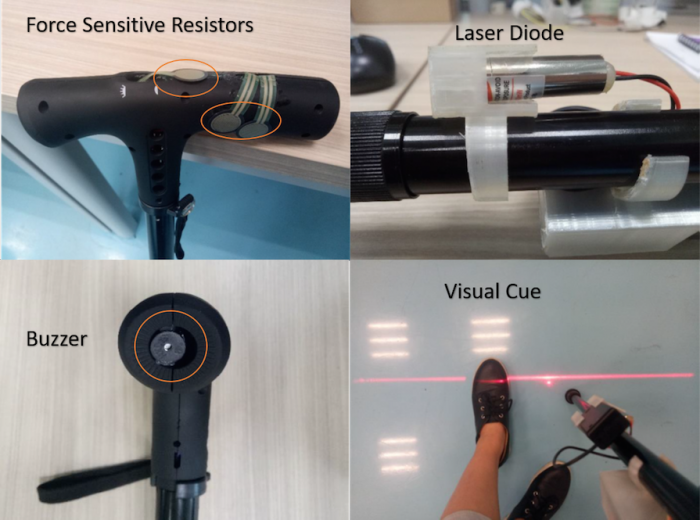 The auditory feedback comes in the form of an embedded buzzer which sits in the cane handle and generates a beeping tone that is played back to the user per step.
When FoG occurs and walking becomes unstable, there will be increasing pressure on the cane and this will trigger the system to assist with the episode.
The device is powered independently and controlled over a wireless RF (Radio Frequency) link, which keeps it portable.
Narayan says wants to further test and validate the system within Parkinson Smart Cane and make more improvements in usability. He believes he will be able to do this through creating better detection algorithms.
Read more:
Play Mat connects parents to autistic kids
How two researchers hacked software to create a functional AI for their diabetic son