The annual James Dyson Award, which started in 2007, challenges budding inventors to 'design something that solves a problem'. In celebration of the next generation of problem-solvers, the award has given over £1 million in prize money to over 300 promising inventions from young engineers and scientists around the world since its inception.
After an initial round in which finalists were chosen from each participating country, Sir James Dyson selected two global winners for the 2022 edition of the awards, who each received £30 000 in support of the next stage of their inventions.
SmartHEAL, a smart sensor for dressings that indicates how well a wound is healing by measuring its pH level, was invented by Tomasz Raczyński, Dominik Baraniecki and Piotr Walter from Warsaw University of Technology in Poland. Their invention took home the prize for International Winner, while Swaleh Owais and Reiten Cheng's Polyformer invention won the Sustainability Award.
The team behind SmartHEAL identified that current methods of assessing wounds for infection – which rely on subjective scoring of colour, smell and temperature, or expensive laboratory tests – can sometimes lead to poor wound healing, tissue inflammation and even necrosis.
By using radio-frequency identification (RFID) communication systems and monitoring the pH of a wound, the smart bandage can assess the wound's condition and detect infection without removing the dressing or disrupting the tissue. Medical professionals can subsequently analyse the data and prescribe the appropriate treatment for the wound.
'We've all nervously peeled back a dressing or plaster to see what is happening underneath,' commented Sir James Dyson, founder and chief engineer at Dyson, about the winning invention. 'SmartHEAL, a smart dressing, has won the International James Dyson Award because it provides doctors and patients with a key piece of data – the pH level – that can tell them how a wound is healing. This can improve treatment and prevent infection, saving lives. I hope the award will give the team impetus to proceed down the tricky path towards commercialisation.'
The winner of the Sustainability Award, Polyformer, is a low-cost machine that turns plastic bottles into affordable 3D printer filaments. The 2022 runner-up, who was awarded £5 000, was Charlotte Blancke from the University of Antwerp, Belgium, for Ivvy, a wearable intravenous drip device.
Read more about the winners' designs on the Dyson website: https://inda.ba/3igtn2T.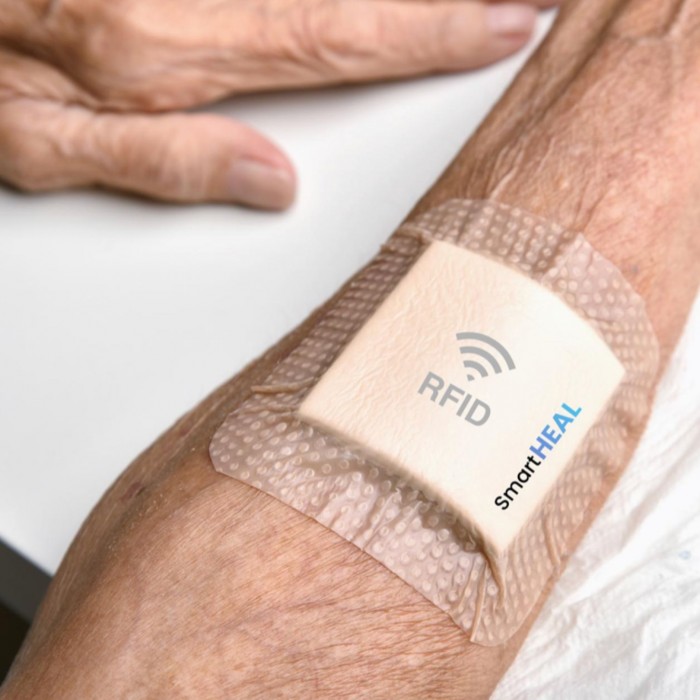 Read more:
An alternative to disposable plastic made with potatoes.
Mimica Touch is a tactile label that combats food waste by providing accurate feedback on when food is spoiling.
Credits: James Dyson Award and SmartHEAL