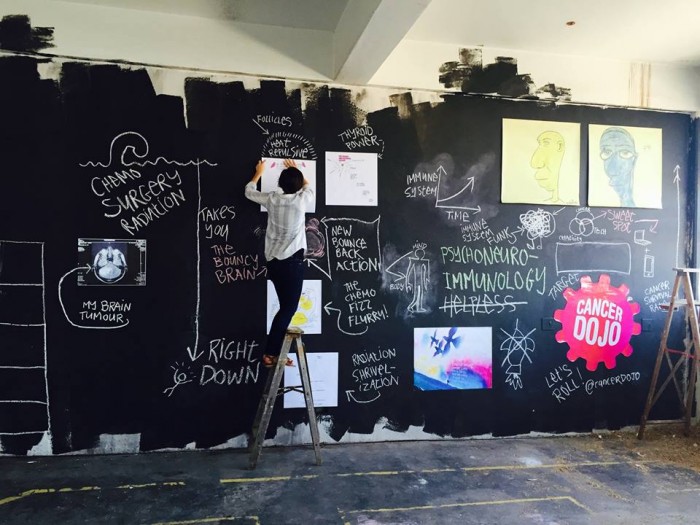 Conn Bertish uses creativity to empower his immune system.
Cape Town-based international award-winning creative director, Conn Bertish was diagnosed with a brain tumour in 2006. Also a big wave surfer, Bertish likened his diagnosis to being pinned down underwater by a massive wave. Many people never overcome the trauma and despair associated with a cancer diagnosis. But, Bertish, now a cancer survivor, found a way to cope and is now keen to share his methods through a creative digital platform called Cancer Dojo.
Bertish beat cancer in 2013 using creativity, humour, and irreverence to strip the fear and doubt out of his healing process. Using a pen and paper, Bertish began toying with cancer by studying the ill people around him, creating visual representations of what he was going through and documenting his experiences through conceptual thinking and storytelling.
By visualising the treatment and the effects it would have on his body, Bertish was able to concentrate energy on where he needed it most, boosting his mind and subsequently, his immune system. This approach is called Psychoneuroimmunology – the science behind how our minds affect how our bodies behave.
Bertish's next endeavour is to share his approach with the support of doctors, oncologists, neurologists and professors of science. The result is The Cancer Dojo.
The digital platform and mobile app would generate content, information and techniques to shift people from being patients to being thoroughly engaged in their bout with cancer. The approach has been dubbed "Dojo Thinking" and is a complementary way to augment all traditional and complementary treatments, including surgery, radiation, chemotherapy and more.
"Our playful thinking is a powerful way to positively enhance your immune system and your entire cancer experience," reads the application's web page.