Multidisciplinary artist Igshaan Adams combines performance, weaving, sculpture and installation. His works explore ideas of evolution – that of the materials he uses, as well as his own. He delves into his identity, within the constraints of post-apartheid Cape Town, South Africa, in a constant process of exploration. Born Muslim, and raised in a Christian household, he learned to navigate complex histories, embracing both South African culture and Islamic traditions as witnessed within the domestic spaces that shaped him.
Adams has participated in artist residencies around the world, and has had solo shows on three continents. His Path of the Upright piece, nominated as Design Indaba's Most Beautiful Object in South Africa in 2018, describes mankind's capacity for good and the lifelong pursuit for nobility. For Adams, it also represents a meaningful prayer that has provided comfort to him in times of adversity - the coming together of tapestry and spirituality.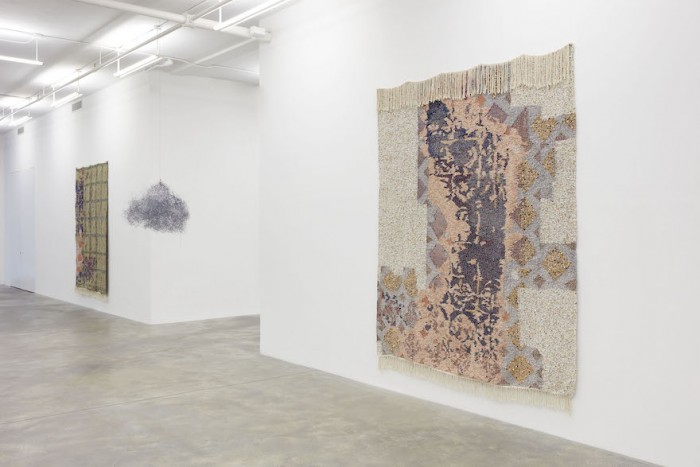 While the artist tackles broad spiritual concepts, his work uses mundane found items and objects. "I am concerned with my two environments: the internal and the external; and the constant exchange of information between the two. As I project myself onto the world, so too do I internalise the world's projections onto me," he says.
His current show at Casey Kaplan in New York runs until 30 July 2021 and is titled Veld Wen. The show comprises 10 heavily embellished weavings inspired by patterns found in the remnants of linoleum flooring removed from the homes of childhood friends and neighbours.
Adams' own history is housed in these spaces; memories from childhood through adolescence are imprinted upon these fragments of flooring. In exchange for the decayed floors, Adams furnishes his neighbours' homes with new linoleum.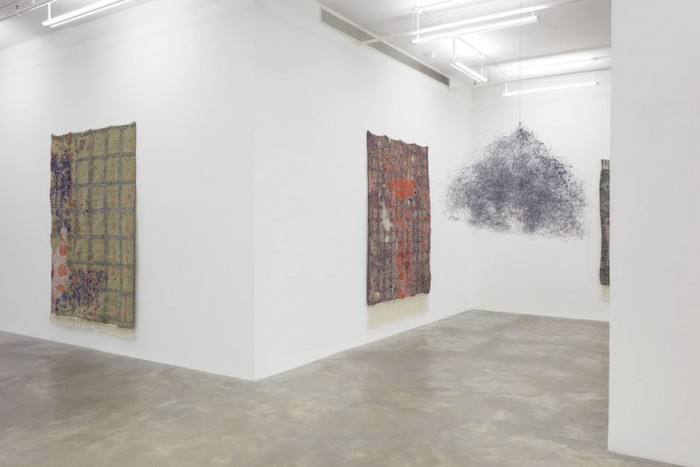 Later in the studio, the fragments form the starting point for handmade woven compositions. These new tapestries are composed entirely of materials sourced locally in Cape Town, such as wood, stone, glass beading, nylon rope, and silver and gold chain, along with cotton twine purchased in Bonteheuwel, Cape Town.
As Adams explains, the concept of manipulating objects within the home, specifically linoleum, "was really about looking at the domestic space that produced me. Looking for clues. If my environment that I grew up in and was placed in was different, how different would I have been".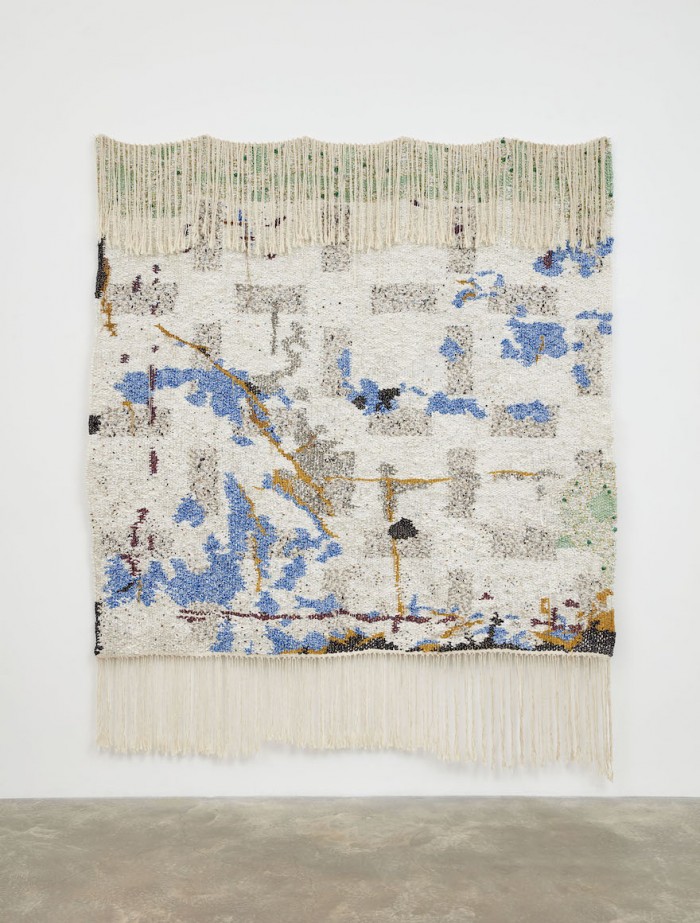 In reworking the linoleum's original paths, Adams reconstructs his own narrative - one which serves as the start of a journey both tangible and spiritual. Within the process of mapping his community, Adams re-contextualizes the shared histories of his close-knit neighbours, and his own.
He positions these tapestries along the mythical path of Joseph Campbell's 'Hero's Journey'. Each of the 10 chapters of Campbell's philosophy is referenced within the tapestries and titled according to its part in the narrative (translated into Adams' native Afrikaans in a nod to his personal history). What materializes, overall, is a bridging of past, present and future, where Adams honours the lives lived and roads travelled.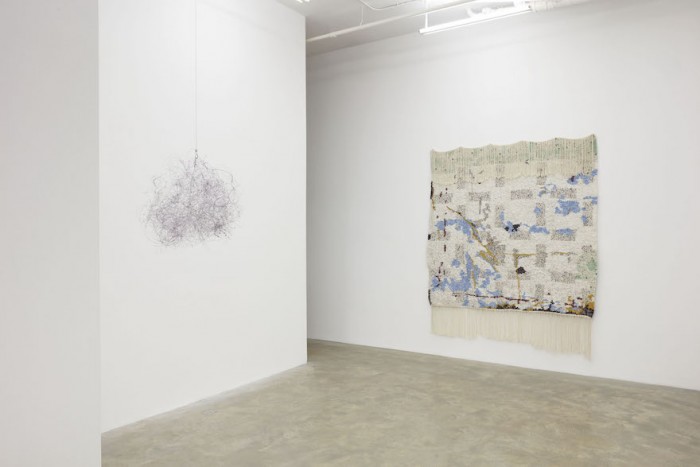 Here's more:
Visit caseykaplangallery.com.
Path of the Upright: Spiritual identity woven into textile design.
Profile on Igshaan Adams.
Credits:
Jason Wyche, courtesy of the artist and Casey Kaplan, New York