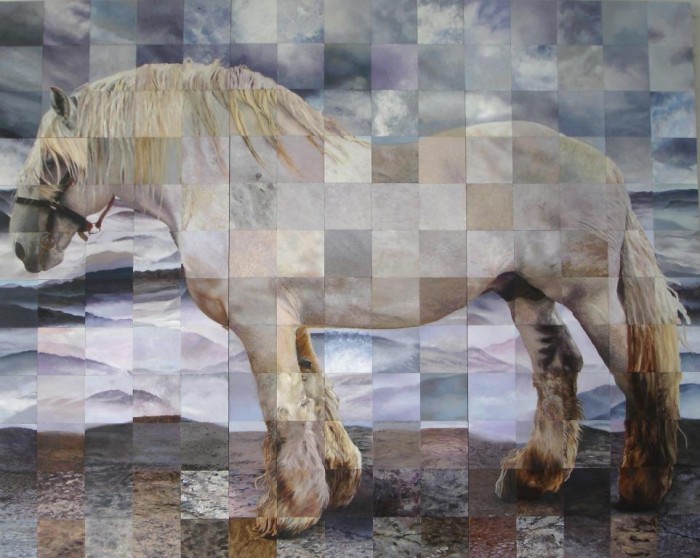 The function of art to create community has gone astray in the reigning century of self, believes Julia Teale, director of the Spencer Street Studio in Salt River, Cape Town. In an effort to reinstate art's social function, Teale has rallied her students to collaborate in a massive painting of a Percheron horse, which will be auctioned to benefit the local Cart Horse Protection Association.
"Working daily in Salt River, we were confronted by the large number of cart horses and how they are often mistreated. Art may be perceived as an affectation in this environment, but I truly believe that art can provide hope, healing and community – as it did in previous centuries," says Teale.
The resulting work comprises 150 superwood panels of 21x21cm, which when joined forms a 250x300cm life-size image of a magnificent stallion. With each panel painted individually by some 20 artists, Teale likes to emphasise that there is no artist's signature validating the value of the artwork. Instead, as a product of community, the work's value rests solely in its execution.
Although a Percheron is an unusual sight in South Africa, the choice was made on the basis of the Percheron's historical significance as the working horses of mankind. Performing as warhorses since the 15th century, pulling cannons and supplies for Napoleon's armies and all the armies of World War I, ploughing fields and taking goods to market, are just some of the various uses these animals have been put to. Percheron horses have been used by painters throughout history as the basis for depicting unicorns, and their dramatic muscularity and graceful movements made them favourite models for many Baroque and Renaissance painters.
The Percheron horse will be auctioned off at noon on 14 November 2009. Small works by artists and students of the studio will also be on sale for R500 each. Further, Teale has also donated her Exquisite Corpse collection of 16 etchings on the theme of Adam and Eve for auction. From the earnings, 80% will be donated to the Cart Horse Protection Association.
The exhibition runs from 14 to 24 November 2009 at the Spencer Street Studio.