Architect and Design Indaba Alumnus Mariam Issoufou Kamara, who heads up design practice atelier masōmī, partnered with The Design Museum in London and Snap on a project that explored the potential effect of climate change on the well-known museum's structure.
Landmarker, an augmented reality project that marked the Design Museum's fifth year at its Kensington Building, set out to bring the realities of extreme weather to life in a visceral way.
Viewers or passersby with Snapchat on their smartphones were prompted to open their Snapchat, at which point Snap's AR technology transformed the building before their eyes, bringing the sometimes distant effects of climate change into close proximity.
The apocalyptic effects, courtesy of the Landmarker Snap Lens, showed the Design Museum hit by a blizzard, parched by drought, or partially underwater after heavy rain.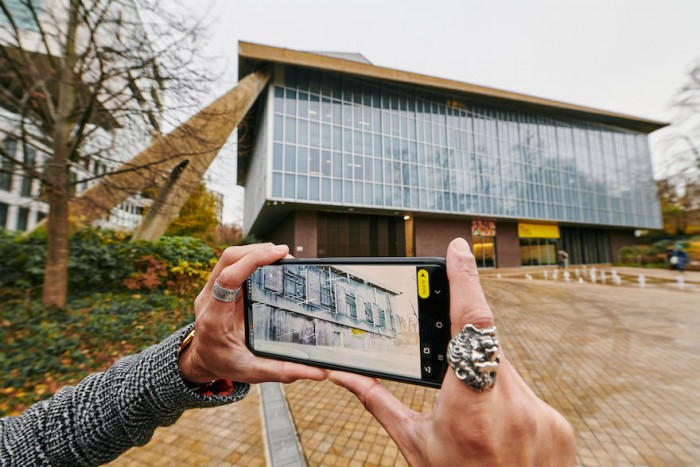 "For an architect whose practice is in a desert country like Niger, the effects of the climate crisis are already all around us through increased droughts, floods, and even climate refugees," Kamara explained. "This collaboration with the Design Museum and Snap really allowed me to explore a future where the climate has changed drastically – a new normal, if you will. I wanted to use the façade of the Design Museum to explore how the built environment might respond to harsh conditions, and how we could perhaps put buildings to use in order to serve new needs under extreme conditions."
Encouragingly, the project also showed building materials transforming before the viewers' eyes, highlighting the way in which architecture can adapt to mitigate the worst effects of climate change. The project drew attention to the ways in which the built environment can be repurposed in the face of contemporary challenges.
"The imaginative reuse of existing structures needs to be at the heart of contemporary architecture," said Justin McGuirk, Chief Curator at the Design Museum.
According to Will Scougal, International Head of Creative Strategy at Snap, "Climate change is the defining issue of our generation, and this Lens brings what can feel like something distant closer to home, making it harder to ignore."
The immersive project is one of many such AR projects that Snap Inc. has developed for museums. It partnered with Sotheby's for The Final Christo, an exhibition of 24 original artworks telling the story of the late artist's final work L'Arc de Triomphe, Wrapped. An ongoing project for the Los Angeles County Museum of Arts, titled Monumental Perspectives, explores different historical perspectives of Los Angeles communities.
Read more:
How is virtual reality changing the architecture industry?
How urban planning can help us cope with climate change.

Zach Lieberman combines fine art and code to create futuristic realities.
Credits: Snap Inc.