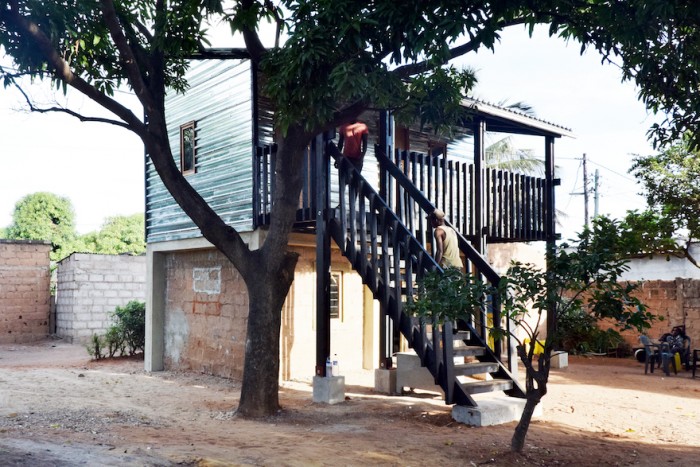 Maputo, the capital of Mozambique, has a population of more than 2.5 million with approximately 80 per cent of the population living in slums. Developed during the Portuguese colonial rule until 1975, the city lacks proper infrastructure. A housing development project, Casas Melhoradas aims to improve housing conditions for low-income groups in the city by developing alternative construction methods and developing economical housing typologies. The project demonstrates how existing buildings can be transformed to meet the needs of the community.
In the latest prototype, completed this year, a vertical structure was added to an old house situated near the centre of Maputo in a slum called Polana Caniço. The housing unit was constructed using lightweight wooden elements, prefabricated in a local timber workshop, transported by hand and assembled in a short period of time.
Its design is a reinterpretation of the traditional "Casa de Madeira e Zinco," a local housing type consisting of a timber and corrugated iron sheets. Traditional Maputo homes draw on the common "Casa de Blocos," a local housing type made of concrete blocks.
The Casas Melhoradas structure features a suspended plywood ceiling insulated with foil. It also includes mosquito net protected, natural ventilation openings.
Designed by Jørgen Eskemose and Johan Mottelson, Casas Melhoradas is a joint venture between Architects without Borders and The Department of Human Settlements at the Royal Danish Academy of Fine Arts' School of Architecture, Design, and Conservation.
The second phase of the project was completed in 2015. The project is currently seeking donors and investors for future collaboration.