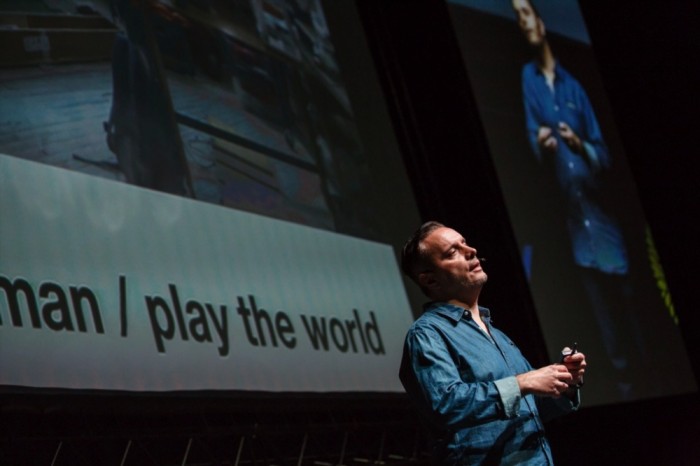 Steve Vranakis at the Loerie Awards 2015 Seminar of Creativity
"We want to use technology to break down barriers, provide access and give super powers to others," says Steve Vranakis.
As executive creative director of Google Creative Lab, Vranakis' job is to lead a team of creative misfits in the pursuit of this goal, while following their mandate from Google: Know the user, know the magic, connect the two.
This "ragtag group of idealists and vagabonds" (as described by Vranakis) is charged with taking the brand beyond the browser, working on experiential creative projects that connect people in the real world with the ethos and mindset of the tech giant. There is also a big focus on getting kids into coding.
For a virtual brand it is important to have a physical presence, says Vranakis.
Vranakis shares some of the more recent projects the Creative Lab has worked on that serve to do this, connecting the broader public with creativity and digital art through technology that is accessible and open-source to stimulate learning.
Chrome Web Lab
Installed at the Science Museum in London from 2012 to 2013, Chrome Web Lab was a series of five interactive experiments connected live to the web to bring the inner workings of the internet to life. Sketchbots, one of the more popular projects, captured the portraits of visitors and online users and then had a robot draw it live in the sand, turning it into a video afterwards. Sketchbots illustrates the capabilities of HTML5, which, using Canvas, allows users to draw or render two-dimensional graphics in web pages, such as graphs and animations. Another popular installation was Unviersal Orchestra, an eight-piece robotic orchestra that could be played in conjunction by museum visitors and online users. Together they could play on a selection of keyboards, drums and other instruments to create an online universal orchestra.
The Web Lab is now closed but the source code for Sketchbots and Orchestra is available on GitHub.
DevArt at the Barbican
Considering traditional mediums like oil painting and ceramics are still ubiquitous, Vrakanis believes that tech is still under-represented in the artworld. DevArt sought to illustrate just how technology can be used as a canvas, launching a competition to commission an upcoming developer to create a digital art installation alongside an exhibition of top interactive artists at the Barbican in London in 2014. The artists included Karsten Schmidt, whose Co(de)factory brings creators together by allowing them to collaborate using 3D design tools that create digital sculptures. Part of the programme also included DevArt Young Creators, a set of workshops for children and teens who had never tried coding before.
Abbey Road Studios
One of the more recent projects by the Creative Lab, Abbey Road Studios launched in April 2015, making the iconic home of British music accessible to the world. The world-famous recording studios shaped the careers of musical legends like The Beatles and Pink Floyd. It can now be experienced as a virtual interactive tour thanks to the work of Google.
Steve Vranakis was a judge and key note speaker at the Loerie Awards 2015.
Watch our exclusive video interview with the Google Creative Lab ECD.