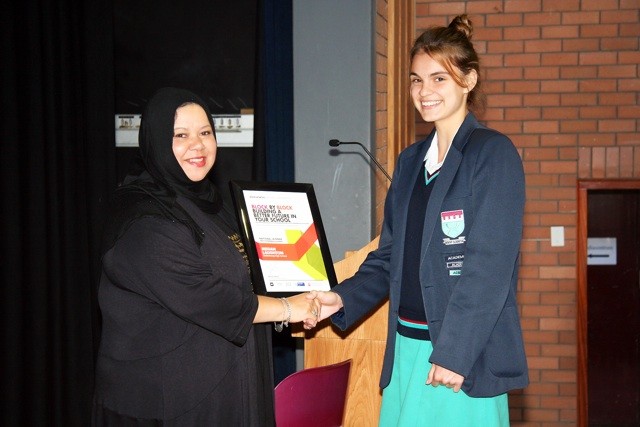 Megan Laughton from Stellenberg High School and Sadia Abrahams, relationship manager Woolworths Making the Difference Programme.
The 2013 Making the Difference through Design competition, presented by Woolworths and its partners Design Indaba, Sappi and the Western Cape Department of Education, has selected Megan Laughton of Stellenberg High School in Belville in the Western Cape as the winner.
This year the competition's theme is "Building a Better School through Design". Laughton created a prototype of a lightweight, easy to store and use space-saving desk and chair.
Grade 10, 11 and 12 students from nearly 400 participating high schools came up with innovative sustainable ideas in surface, product, environmental and visual communications design categories. The top entries will be exhibited on the Woolworths stand at the 2014 Design Indaba Expo, creating a bridge for high schoolers to interact in the working world of design.
As part of the programme, approximately 400 scholars studying design are brought to the Expo on the Friday morning for a special programme in the events arena. One of the judges, Kelly Berman, managed the Expo for the last two years and is now the manager of content and programming for Design Indaba.
Woolworths educational programme manager Peter Twine said the company is committed to raising awareness of the potential of design to improve the lifestyle of South Africans.
"Once again a host of South Africa's design learners rose to the challenge of using the power of design to create a better world and we are seeing them raise the bar in terms of quality ideas each year," he said.
Competition judge and architect Tsai, of Y Tsai Design, described Laughton's prototype as "perfectly aligned to the modern 'new-school' way of thinking about education."
The first runner-up, Sarah Coppings from Redhill High in Gauteng, also addressed the issue of over-crowding in classrooms and lack of infrastructure by building a smart desk out of a recyclable crate.
Tarryn Christie Taylor from Durban Girls' College in KwaZulu-Natal was the second runner-up. She developed an advocacy campaign to promote tolerance of people with dyslexia in the school environment.
The annual Making the Difference Through Design competition is a platform for Grade 11 and 12 students from schools across the country to showcase their creativity, imagination and feel for design. The competition plays a vital role in helping them understand the significance of design in daily life.
Woolworths is one of the major sponsors of Design Indaba; design and education are core foci for the retailer.