"At the Nupe Project we design, develop and prototype innovative products in Africa," reads the descriptor on the front page the start-up's website. Based between London and Lagos, the Nupe Project was founded in 2016 by a team of Nigerian designers who aim to develop problem-solving products and create employment.
These are lofty goals but they're also shared by many people who hope to use design to solve African problems with uniquely African solutions. The first project in their arsenal is called Project OMI. It's a mobile water bottle filter for "the first worlder going to the third world, primarily developed for the third worlder with no access to clean water."
Currently, the Nupe Project is in the process of raising funds to make Project OMI a reality in Africa; starting with Nigeria. What they refused to do is create a product without a social purpose or market a product using the old stereotypical images of dirty water in the developing continent.
"There is general knowledge that clean water is not available to everyone in sub-Saharan Africa. So when we were coming up with this concept we didn't want to over highlight the negative imagery of dirty water, which you see in advertisements," explains Funfere Koroye, one of the project's founders.
"Right now, the average Nigerian is upwardly mobile and between the age of 20 to 30. So we wanted a product that would kind of appeal to this internet-savvy, Facebook-using, twitter, Instagram generation."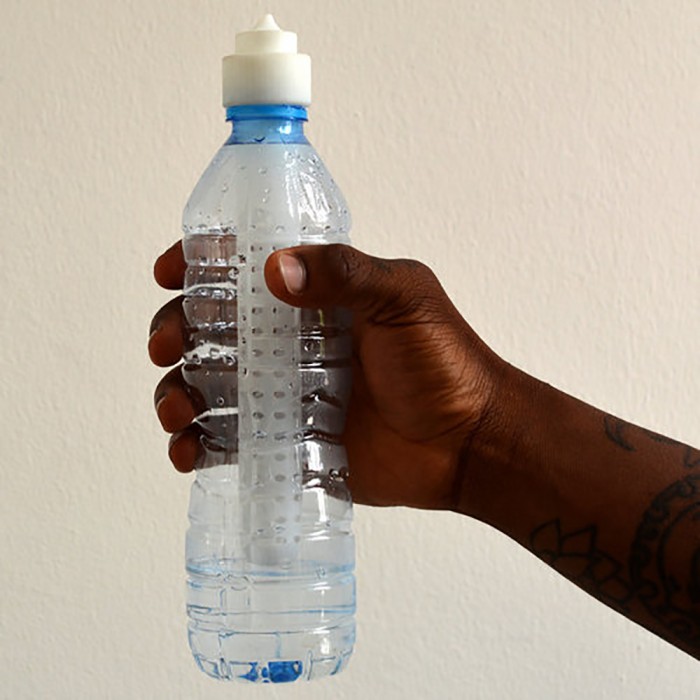 At 27-years-old, Nigerian product designer Funfere Koroye is not part of the old guard in this design space but, according to Tech Point, he's one of the few practising industrial designers in the country.
It's an underdeveloped practice, says Koroye, but one that the Nupe Project hopes to capitalise on while proving the social value of good design. Still, there are a number of stumbling blocks ahead.
"The idea of an industrial design company in Africa is not very common. Designers in the African continent, to begin with, are very limited because of the lack of work," Koroye explains.
"... really what you see is more arts and crafts based designs, which are easier to get press for because I think people prefer to see "African". When they don't see that they don't feel like it's African."
Along with the constraints of a conventional "African" aesthetic, Koroye points to the import culture prevalent in West Africa as another barrier to up-and-coming product and industrial designers.
People in West Africa own and use all kinds of industrially designed products, says Koroye, they're just not made in the region.
His frustration is not without merit. According to research by Deloitte in 2017, of the top 50 African born-and-bred consumer product companies in Africa, only six hail from West Africa with Flour Mills of Nigeria and Nigerian Breweries ranking in the top 10.
To realise The Nupe Project and break into the industry, Koroye teamed up with Michael Omotosho, Ifedayo Ojo, Dammy Onanuga, and Anjola Badaru. He describes the endeavour as a conceptual, industrial design studio with two goals at its core.
The first goal is to help product designers realise that the African consumer is a unique one. This is an opinion shared by Nigerian advertising veteran and author Feyi Olubodun whose book, The Villager: How Africans Consume Brands, addresses the misconceptions that international brands have about the African consumer.
Olubodun, who describes the African consumer as a villager, says advertising on the continent cannot be successful without an understanding of the frameworks present in the many cultures on the continent – frameworks like religion, herd mentality, the role of community, and the need to signal value.
Koroye witnessed Olubodun's theories in action early in his career while working for China-based mobile phone manufacturer Tecno Mobile. Up against global smartphone giants, Tecno established itself in the West African market by releasing an affordable phone that was able to carry two sim cards.
"Typically, the average Nigerian person carries two phones – two very small phones – because they have to separate family and business," says Koroye.
This small addition coupled with a realistic price point set Tecno Mobile apart in West and East Africa and the company is now looking to expand into the Southern and Northern regions.
They were successful because they designed for the market whereas global players design for consumers in the West and just happen to be selling their products in Africa, says Koroye.
Another pervasive issue in Africa is the lack of electricity. Working with a Tanzanian company called Jaza Energy, Koroye and the team at the Nupe Project have designed an energy Hub distribution model to provide affordable electricity in every single home in off-grid communities.
Koroye explains that Nupe was approached by the company to design a solar battery suitable for off-grid communities in which many of the residents have cell phones, batteries and lighting fixtures but nowhere to charge them.
The energy hub also provides energy to anchored loads such as water systems, shops, schools, and community infrastructure. Energy use is remotely tracked and managed using a web-based platform. Users can pay for energy using mobile money – which is massive in Africa – or cash.
"It's related to what is an African problem. It's what we believe can be coined African design without having motifs, prints, fabric or what have you on it," he explains.
Whether consumers in Africa take to locally designed goods is yet to be seen but the Nupe Project illustrates the power of using good design to make products that already exist more adaptable to each unique context.
Watch Next:
From our video series: Inside Impact Hub Accra
Read more about the Nupe project or Jaza Energy.