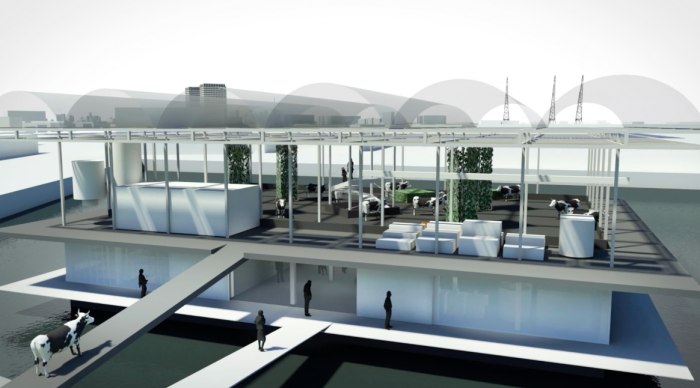 Floating Farm model
Floating Farm is an offshore dairy production facility that drives the notion of a circular food system. It aims to bridge the gap between consumer and producer while drawing attention to the importance of agriculture and healthy living. The model is scalable and can be reproduced anywhere in the world, but the pilot model is set to launch in the progressive port city of Rotterdam in January 2017.
Floating Farm's answer to the increasing global demand for food is the development of more efficient food production processes that addresses the key issues of this century such as lack of arable land, urban density and a growing global population. Part of its initiative is a laboratory where a team of researchers is dedicated to investigating new systems and ideas for food production and management.
One Floating Farm unit is made up of a buoyant platform with dairy production and distribution facilities, a protected cow garden and a visitors centre. The factory produces fresh milk and other dairy products for city dwellers, and in doing so reduces pollution caused by the transport and distribution products along the supply chain. The visitors centre will be an educational space where guests or school groups can tour the facility and learn more about a circular food economy.
The facility's smart design supports a sustainable production programme, which is powered by animal waste and solar panels. Cow manure and urine is converted into bioenergy and fertiliser, which is used to grow fodder for the cows. The roof has been designed to collect rainwater, which serves as an alternative water source for the establishment. Advanced robotic technology has also been brought in for the collection of manure and distribution of feed.