Contributing to 22 per cent of Ghana's Gross Domestic Product (GDP) and employing 42 per cent of the country's workers, agriculture is certainly one of the region's key sectors. A typical farm size in Ghana is approximately 1,2 hectare with most farmers found in the small-scale categories.
Farmers, however, struggle with high post-harvest losses and consistent low yields mainly due to their lack of access to farming insights and techniques, market prices, the ability to interpret that information and an almost non-existent mobile communications infrastructure. This is further evidenced by the fact that Ghana only has one extension for every 2000 farmers. But, one company is changing this.
Founded by Alloysius Attah, Farmerline is a Ghanaian software company with a social enterprise slant. Located in Kumasi and Accra with a current staff complement of 23, it builds mobile technologies that put information, financial services and supply chains in the hands of small-scale rural farmers.
The Farmerline Solution
Tech company, Farmerline is seeking to close the information and communication gap by providing innovative mobile technologies. Currently, the company offers a few lines of service that include, but are not limited to:
Outbound messaging – a personalised voice alert that conveys critical information related to market prices, weather and farming techniques
Mobile surveys – affords farmer-based organisations the ability to conduct remote surveys that capture the impact of their respective interventions
The service is offered via SMS and Android and further offers voice-based messaging to reach farmers with low literacy levels, with all content provided in local languages.
The content messaging and mobile survey services have successfully been deployed across five countries in the private sector, NGOs and government. It has already reached over 200 000 users across West Africa. It plans to reach one million active users by 2020.
By targeting small-scale farmers, Farmerline solutions connects farmers with better access to markets, financing and allows their stakeholders such as governments and development partners to provide farmers with crop management updates, faster and at a lower cost. Says Attah, "our commitment to the Business Call to Action underscores our interest in promoting greater information for the agricultural sector and providing more reliable services and technology to meet the needs of rural farmers, most of whom are women."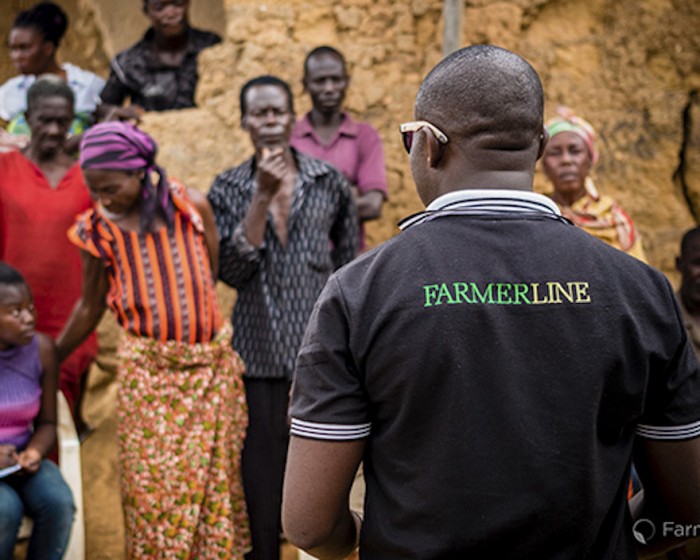 The Farmerline Impact
With these innovative lines of mobile-based agricultural services, Farmerline provides small-scale farmers with critical information that could assist them increase their yields by adopting certain farming techniques and practices.