In Kenya, the kanga is as ordinary as a T-shirt, a length of colourful printed cotton fabric worn wrapped around the waist, as a headscarf, a night dress or to bind babies onto backs.
The ubiquitous item may be the first thing grabbed to lift a hot pot in the kitchen, but it's also steeped in cultural significance which becomes nowhere more apparent than at a wedding.
It was these occasions of love and celebration that inspired visual artist and LGBTQ+ activist Kawira Mwirichia to start her project: To Revolutionary Type Love.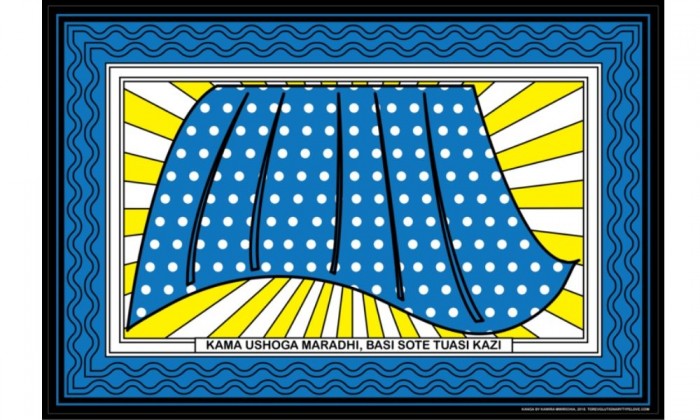 On the day of a wedding, from the bride's family home, a commotion can be heard from a distance that gets increasingly louder as it gets closer. The noise is made by the women of the groom's family who have come to collect the bride: singing and hooting car horns for the whole neighbourhood to hear.
"You have to do that to show that you're not afraid to pick up the bride," Mwirichia says.
If you come quietly, the mother of the bride, or the women in the bride's family, will wonder if you are ashamed of their girl. If they make enough noise they're let into the compound where they start singing for the bride to come out. When she does, they lay down special kangas printed with messages like 'bless this marriage' for her to walk over. "It was this gesture that inspired my project," Mwirichia says.
In May 2019, just days before what's considered globally as International Pride Month every June, Kenya's high court upheld an archaic law banning gay sex in the country. Same sex relations can be met with jail time of 14 years.
"Queer people are not acknowledged by society, we are encouraged to hide," Mwirichia says. "Having people so publicly celebrate our love or our lover by laying down kangas isn't something we're going to experience.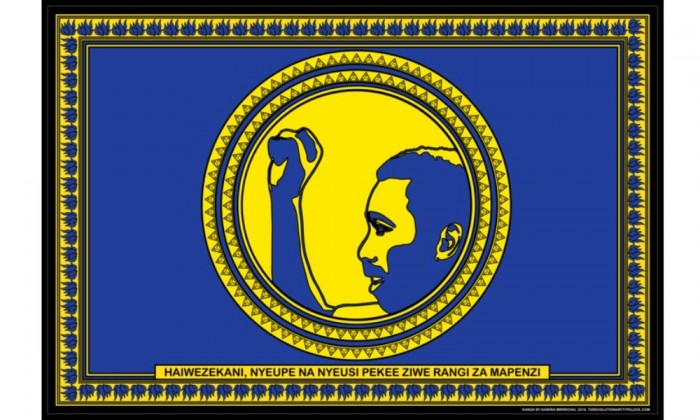 "The best case scenario is that your family is happy with you being queer, but are they going to be happy enough to have a convoy of loud people of this man coming to take their son? Would they be comfortable enough, or proud enough to have their son wedded to a man or their daughter to another woman?" Denied this level of public acceptance, approval and celebration that wedding kangas represent, Mwirichia decided to develop a range of her own kangas that celebrate queer love.
The design of a kanga generally includes a thick, patterned border around an image and a line of text communicating a message. Mwirichia's kangas use this traditional combination of words and images to tell the story of queer history around the globe.
She's set out to design a kanga for every country in the world, not only because she loves a challenge but because she was curious to know about the state of queer rights beyond the borders of Kenya and the shores of Africa. So far, every country that she's researched has a story.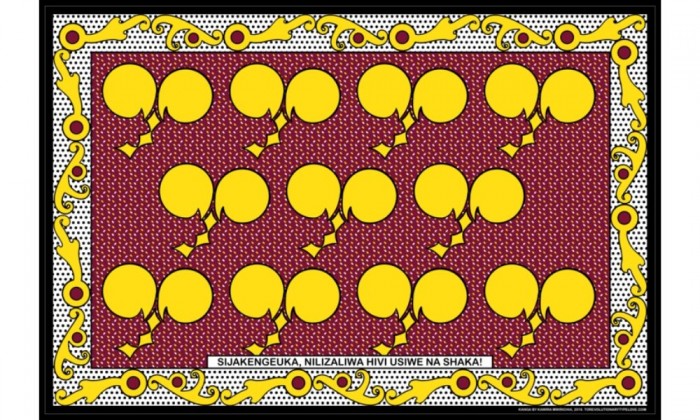 Mwirichia does her research online, spending hours at a computer. If it takes her a week to create one design, three days are dedicated to investigating. She's become an encyclopaedia on LGBTQ+ history from the US's pivotal Stonewall riots in Manhattan in 1969 which spearheaded gay pride, to lesser known events like the more recent fight in Andorra for the right for gay men to donate blood.
Once she has a story she chooses visual symbols from the information to create her designs. For example, her USA kanga uses the windows of the Stonewall Inn as a motif. She noticed colourful balloons in Australia's first pride demonstration so they feature on the kanga she's designed for the country.
During her research, Mwirichia discovered that kangas have been used in the past for silenced groups to express themselves; for women to assert their voice in a patriarchal society. "It's not something I knew when I had the idea," she says. "It's a happy coincidence."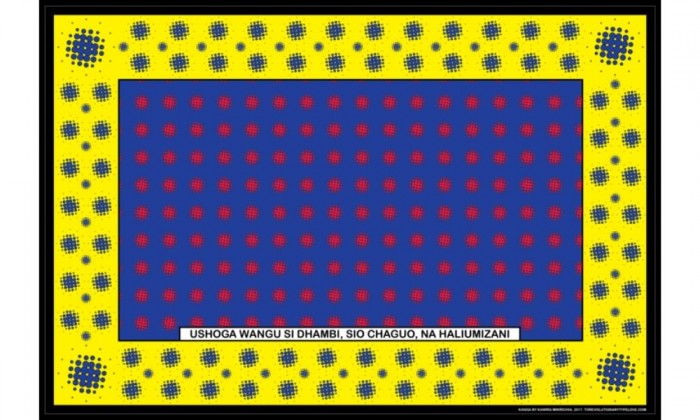 To generate the sayings on the kangas, Mwirichia turned to the LGBTQ+ community in Kenya to crowd-source their sentiments in Swahili in exchange for 1000 shillings (about $10 or R140). "I asked them to send me sayings that captured something important to them about love or what makes them feel sassy in their queerness," she says.
She then matches the sayings to a country's queer history. In 2015, a lesbian couple were refused service at a cafe in central Vienna after they shared a kiss. In protest, 2000 protesters staged a 'kiss-in' on the premises. "They were like, if 2 lesbians kissing is so disturbing to you, have 2000!" she says.
The saying on the Austrian kanga, "Busu zako wangu, shairi kwa ngozi yangu" translates into English as "Your kisses are poetry to my skin." Historically in South Africa, the queer movement was divided along racial lines during apartheid. The saying on the South African kanga, "Haiwezekani, nyeupe na nyeusi pekee ziwe rangi za mapenzi" translates into English as "Black and white are not the colours of love. They never were." It's emblazoned below a cameo of South African gay rights and anti-apartheid activist Simon Nkoli.
Through To Revolutionary Type Love Mwirichia is consolidating disparate queer histories found in far corners of the internet into a colourful, collectable archive. "They're kangas filled with our own stories of revolutionary history around the world and we lay them down for ourselves in celebration of ourselves," she says.
Currently Mwirichia's working on a big exhibition of her kangas in June 2020 that will incorporate drag performers. "We're trying to find a way to bring in drag and Kenyan culture and identity, aesthetics and iconography. To tell Kenyan stories but using drag," she says. Her hopes for the project are that her kangas become queer iconography as popular and widely accepted as the rainbow flag — a beacon of pride and acceptance. The proceeds of which she'd use to start a foundation for queer artists in Kenya.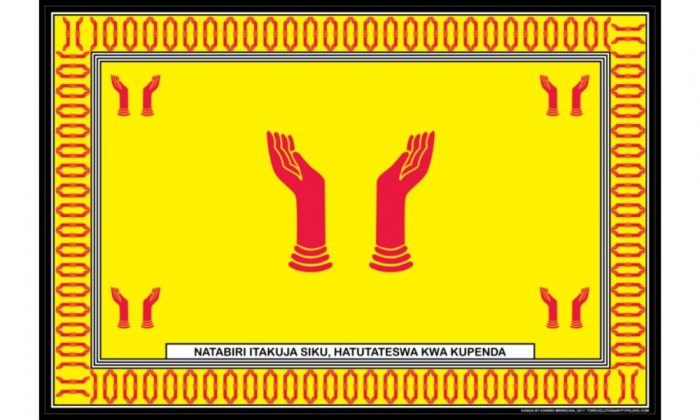 Ultimately though she wants her project to activate self love. "We grew up in a culture with the message, at least from the older generation, that we're different, and the difference is not a good thing, it's something we should be ashamed of, it's something we should hide. It's not worthy of being loved. It's not worthy of being seen," she says.
"But I believe that if we as LGBTQ people are able to shed that feeling of shame or guilt around who we are, and we're able to embrace ourselves as worthy, as natural, as beautiful beings, if we can change that internal dialogue, I feel like the switch in the individual would be a huge catalyst for real change in society. Nature didn't make a mistake creating you as you are."
Mwirichia's belief is that your authenticity is your power and that showing up as yourself is more powerful than any campaign.
Read more:
Wanuri Kahiu on using film to talk about Africans as joyful and radiant
Photographer visually deconstrycts the myth that being queer is un-African