Nifemi Marcus-Bello designs a bamboo kiosk for skater brand Wafflesncream.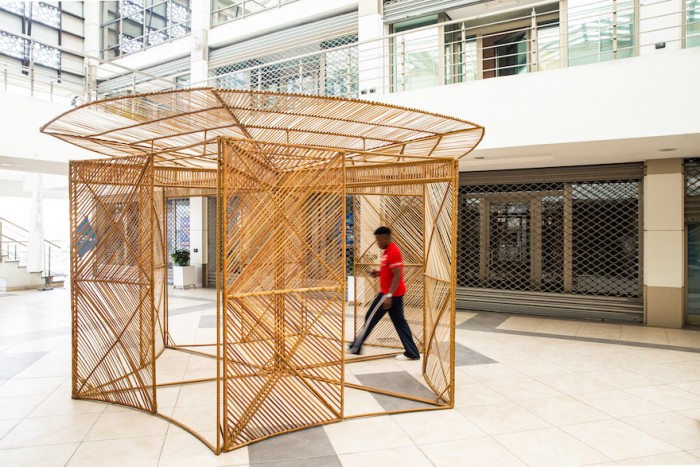 Nigerian designer Nifemi Marcus-Bello's design studio, nmbello, has created a modular, interactive kiosk for Wafflesncream, popularly known as Waf. The so-called Waf Kiosk, which is currently located at Waf's Lagos store, houses the brand's collection of skateboarding apparel. But the kiosk can also be used for flash retail experiences.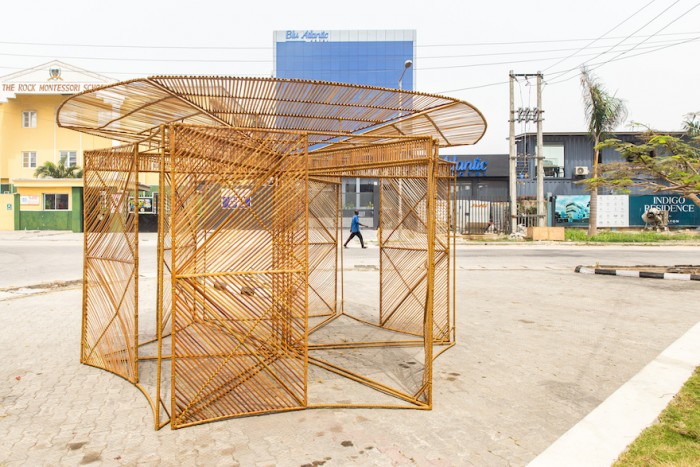 The hexagonal, six-piece structure is easy to transport, and retailers can create a variety of set-ups and different experiences for consumers.
"The most important aspect to me was the modularity and diversity of the kiosk," Marcus-Bello explains. "We have submitted close to ten set-ups of the kiosk, which will mean a total of ten experiences during the brand's activation."
Marcus-Bello selected the "singular and humble material" of bamboo for his kiosk, inspired by simple bamboo blinds from Benin, known as kosinlé. The stripped, woven bamboo is held together by a metal frame.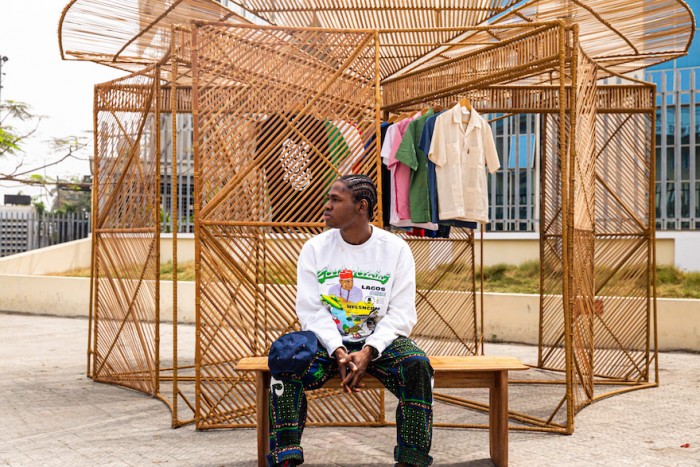 What was so appealing about kosinlé?
"About three years ago, I took a research trip to Port-Novo, Benin Republic," Marcus-Bello says. "On my way back to Cotonou, I noticed locally made bamboo blinds that were used to cover the front of wooden kiosks. As we drove through the main road leading to Cotonou, what stood out to me was the effect they had on the landscape and the shadow-like silhouette of the people behind them."
Marcus-Bello selected natural materials and tones in keeping with the evolution of the Waf brand, which represents a down-to-earth community of skateboarders, BMX riders, graffiti artists, graphic designers, photographers and more. While celebrating different subcultures and supporting skateboard regeneration projects, the brand is big on staying true to its roots and appreciates good quality.
Designing with empathy means taking into consideration who will be experiencing and using the kiosk. "By using familiar materials, I was hoping to tap into a nostalgic feeling, allowing people to relate to and interact with the space a lot more easily," Marcus-Bello explains.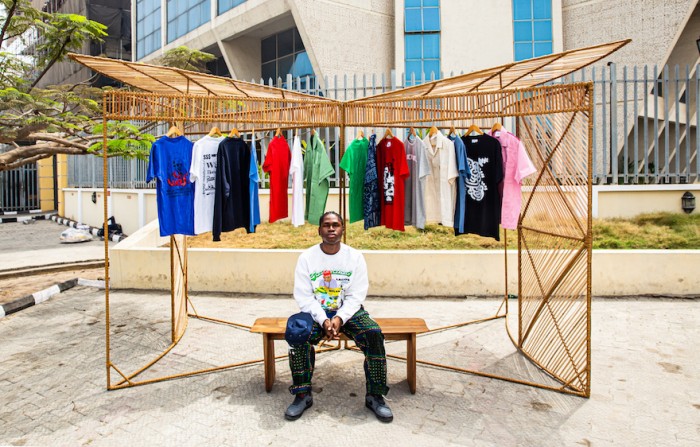 While the kiosk has undeniable aesthetic value, it is also practical, paying homage to streetwear vendors in Lagos. The Okrika, as they are known, sell bootleg and second-hand clothing across the city, and typically hang clothes above eye level so they are easy to see. Similarly, clothes can be hung above eye level when the Waf Kiosk is in use.
By paying attention to how process dictates design, Marcus-Bello has created a deceptively simple structure that has grown out of African experiences and culture.
"As a design studio based in Africa, we have learnt that a lot of humility is required to fully benefit from what the continent has to offer. It is deeply spiritual in the sense that, culturally, Africa is rooted in respect for people and places," Marcus-Bello says.
Read more:
Lagos' Wooden Tower is an alternative to the city's reliance on concrete buildings.
Nifemi Marcus-Bello: Affordable furniture for urban Nigerians.
Nigerian photographer's romantic visions of Lagos.
Credits: Jide Ayeni