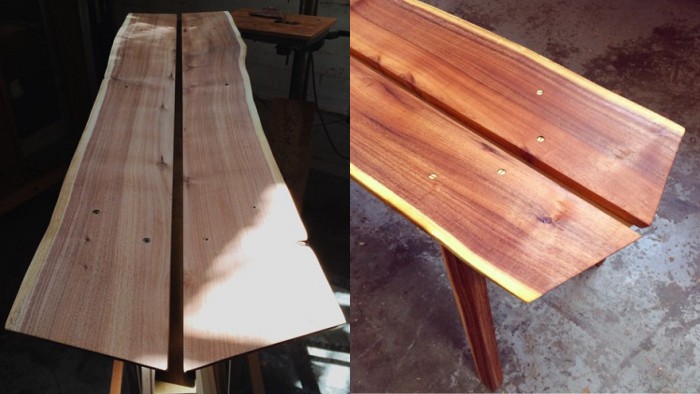 Blackwood & Brass bench by Cameron Barnes
Cameron Barnes designs and manufactures contemporary, custom furniture with an eco-friendly ethic, using only local sourced, alien timber. Each piece is unique, taking its character from the wood itself and from the slight beauty-in-error of handmade processes.
This blackwood and brass bench is a bit of a passion project, a departure from Barnes's commissioned pieces. It was made out of wood from a fallen tree at Cameron's home in the KwaZulu-Natal Midlands.
"The design of the bench is intended to display a number of elements in tension, the irregular, organic shape of the blackwood slab contrasting the regular geometry of the construction and the brushed brass texture against the warm tones of the timber," says Barnes.
It is also intended to showcase the timber itself. Blackwood (Acacia Melanoxylon) is considered an invasive species in South Africa and often discarded as waste, while in other parts of the world it is considered a fine furniture timber and is used in cabinetry and musical instruments.
Barnes approaches his furniture creation in a greener way than most, using no nails or glue so that each piece can be disassembled and its composite parts transformed into something new. Having studied architecture followed by an MSc in environmental design, Cameron learned many of his cradle-to-cradle principles in his work as a green architect. His vision for his work is that each piece can live through constant cycles of use and adaption without ever reaching the end of its lifespan.