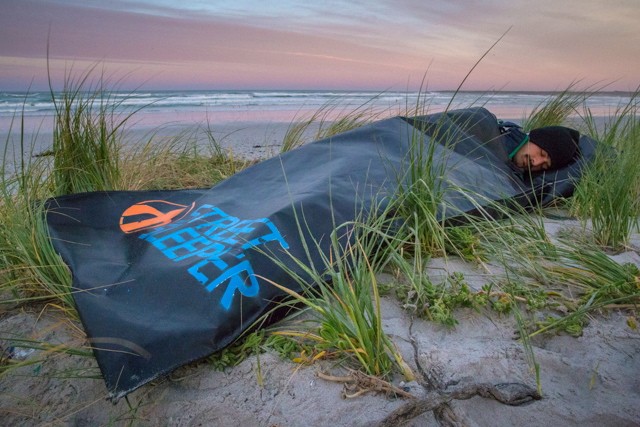 Street Sleeper by Oliver Brain.
Oliver Brain is the inventor behind the Street Sleeper bag. His ultimate goal is to raise awareness around homelessness and the economic disenfranchisement that goes with it.
More than just a product, Street Sleeper is a social enterprise that upcycles PVC advertising billboards, destined for landfill, into survival sleeping bags that provide protection against the elements at night and double as backpacks during the day. Transforming the negative impact of waste into immediate relief of those living on the street, bundled up in the long-term vision of enabling positive change in their lives.
The wear-resistance and waterproof survival bag, which is long and wider than a normal sleep bag, weighs only 1.9kg. The ample space allows the user to sleep with multiple layers of clothes and you can also store valuables in the bag. It also rolls up into a handy carry bag. The bag features a pillowslip that can be filled with clothes. The pillowslip can also serve as a shield during bag weather
By gifting a bag for R150, you not only give one homeless person, personal shelter, the impact is felt far wider. The production process creates employment, for homeless people as well as local businesses involved in the bag manufacturing. The Haven Night Shelter in Woodstock, Cape Town is currently the main distributor of Street Sleeper bags.
In addition to producing the survival bags, Street Sleeper also makes lifestyle accessories including wallets, iPad covers and iPhone covers. These items are sold for profit in order to cross-subsidise the non-profit arm of the brand.
Street Sleeper was on display at Design Indaba Expo 2014 as part of the Africa is Now exhibition under the 'Africa is Urban' theme that explore Africa cities as engines of growth and opportunity present an eclectic mix of contemporary urban challenges and possibilities. They are a source of vibrant design inspiration, from new architectural and urban typologies to fashion with real street cred.