The way we move in the cities we inhabit is constantly evolving. From the rise of on-demand taxi giants like Uber to the increasing popularity of electric bicycles and driverless cars, solutions to transportation aim to address complex challenges like overcrowding, gridlock, dwindling natural resources and widening social divides. But what if mobility could be positively adapted to address not only these challenges but also car-sharing solutions, waste management and mental health? To explore these challenges, New York's Parsons School of Design partnered with Ford Motor Company and scholars from the Stockholm School of Entrepreneurship to imagine the future of mobility with speculative design.
As a design method, speculative design, critical design or design fiction gives the designer the opportunity to fabricate an experience of a possible future. It can be used as a medium to stimulate debate about the social, cultural and ethical implications of existing and emerging technologies. As part of the Parsons Transdisciplinary Design MFA program, graduates and scholars envisioned six new approaches to mobility for people, goods and services.
Interzone
What if we could reduce the amount of time spent traffic jams by changing time itself? Designers Andrea Karina Burgueño, Ricardo Dutra and Stephanie Lukito propose staggered timezones in the city of New York to alter the pattern of congestion, eliminating the infamous rush hour. This could be achieved by dividing the city into three different time zones, called Interzones.
According to the plan, Interzone 2 (IZ2) is the standard time zone. Interzone 1 is two hours before IZ2. Interzone 3 is two hours after IZ2. Regular 9am to 5pm work schedules would be staggered throughout the day to mitigate congestion. "Despite their gridlock, cities are well-oiled machines that have tremendous infrastructure in place to govern how people move through a city," reads the proposal. "Interzone would build upon the existing structures, such as updating parking regulations and taxi standards."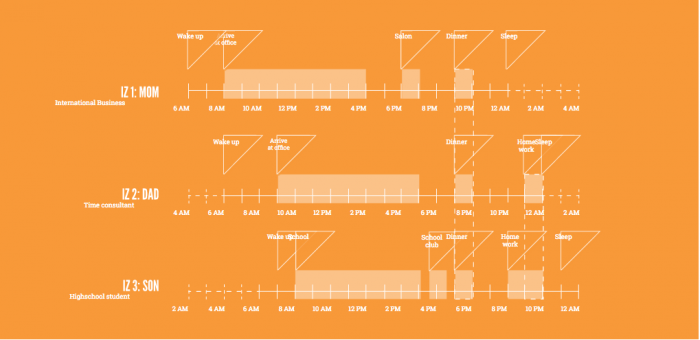 Blue Challenge
By turning the stressful business that is urban transit into a game, designers Isabella Brandalise, Laura Dusi, Aya Jaffar hope to reduce gridlock and promote community involvement.
Blue Challenge is a reward system that uses points as currency. People gain points depending on modes of transport used and distances travelled. There are also special missions and mini-games proposed during collective transport journeys for added benefits.
HOV Zone
Carpooling is an accepted idea although not widely practised or enforced. Hov Zone by designers Sarah Abiya, Sungmy Kim and Mei-Ling Lu treats driving as an earned privilege. "Everyone grasps the concept that carpooling or using public transportation alleviates congestion, but few people are willing to sacrifice the comfort, convenience and social buffer that being alone in a car provides," reads the brief.
The plan calls for the governmental regulation of carpooling and mass transportation systems. The "occupancy zones" would be identified and enforced using a mobile app. The app would also be used to connect passengers to drivers. Those who do not want share would be required to take public transport.
The project calls human interaction and social divides into question. How might the relationship between the haves and the have-nots change?
Access Plans
Access Plans by Alix Gerber, Sam Haddix and Kate McEntee calls on car companies to turn a car into more than just a car. Instead of transporting themselves from point A to point B, car companies can see their product as a way to cater to the needs of the public such as healthcare, grocery shopping, school drop-offs and more.
Local Motive
On the issue of waste hauling, designers Katie Edmonds, Andrea Morales, Sneha Srinivasan propose that public services should become hyperlocalised. Their plan includes garbage pipes that transport waste between buildings, buses that use compost as currency and subway cars that incinerate trash to generate energy.
Imagined Bus
Finally, designers Janson Chang, Gui Curi and Cameron Hanson look to turning public transportation into a positive experience by using the bus to facilitate new kinds of human interaction.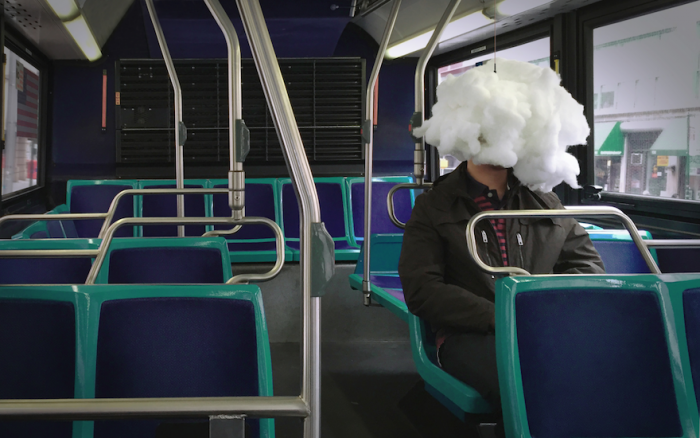 The Stillness Bus, fitted with individual sensory deprivation "clouds", could provide a haven for harried commuters.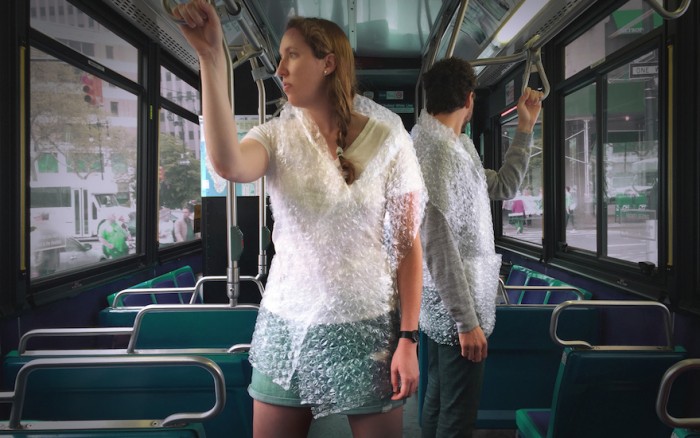 In the Bubble Bus, all riders would be required to wear bubble vests that pop loudly if someone is being touched. The idea is to reduce sexual harassment.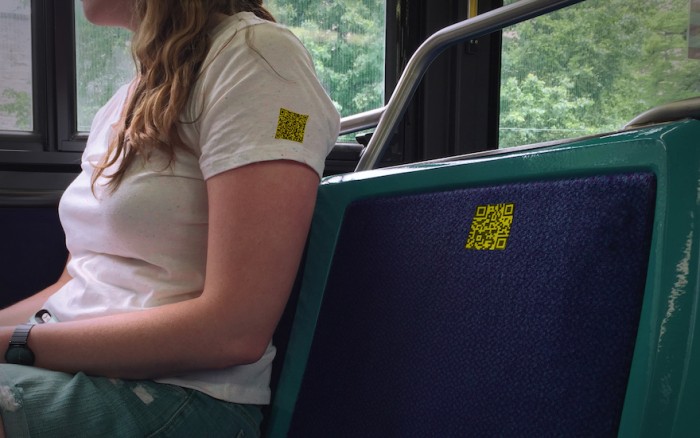 The Marketplace Bus comes with an in-bus app that could connect sellers and buyers.