The Atri house, located near the shores of Lake Vänern in Sikhall, Sweden, is a greenhouse-inspired building that allows dwellers the opportunity to live in an eco-friendly environment that also doubles as a sheltered garden.
Naturvillan, founded by Niklas Dahlström and Anders Solvarm, is a Swedish architecture firm specialising in building homes that leave a minimal environmental footprint – combining stunning design, climate-resistant materials and plant cultivation to create unique multifunctional living spaces. The Atri House, like all the structures that Naturvillan design, is fitted with reliable energy-efficient solutions, ecological materials, protective climate shells, automatic irrigation and ecocycle systems that give back nutrients to gardens from wastewater.
Built in early 2022, the Atri House is the latest of Naturvillan's self-sustainable villas. The A-shape of the building is inspired by the towering triangle-like conifer trees of the surrounding natural environment, with a glass frame that allows sweeping views of the mountain and lake from all parts of the house. Beyond its self-sustainable properties, the villa is also climate smart. Designed to be warm in winter, and light and airy in summer, Atri has its own system for heating powered by the home's solar panels and allows for plenty of natural light.
The house, totaling 1 335 square feet, comprises two bedrooms, one and a half bathrooms, wardrobe space, multiple living areas, an entry hall, kitchen, balcony, roof terrace and even a library – all of which blend comfortably with an indoor garden. This garden, which covers the long side of the house on the southern side with plant beds and a plant wall, really is the star of the Atri building, which was designed specifically for homeowners to live in harmony alongside their self-sufficient food garden. The greenhouse element of the design shelters the plants from the elements and encourages further plant growth.
The Atri house is currently available for purchase at a price tag of $738 000 (around R12 740 536). Part of its appeal – beyond the structure itself – is the scenic surroundings of Lake Vänern, with its promenade and marina, and the proximity of the home to the popular sandy beach at Sikhall.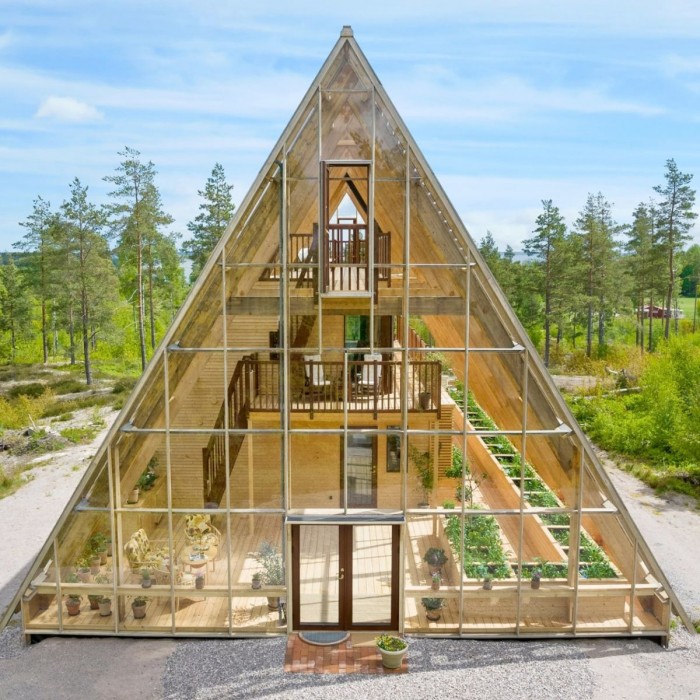 Read more:
Credits: Naturvillan and Marcus Eliasson