Download
options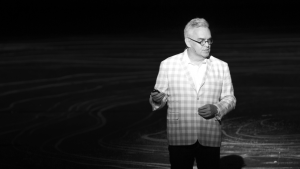 Download: Brian Collins on creative evolution and the pitfalls of brand homogeny
Click on a link to download the video file
Brian Collins is a design teacher and creative strategist based in New York. He is the Chief Creative Officer of Collins, a brand consultancy that has offices between San Francisco and Manhattan. He is an industry analyst and influencer with years of experience in the business of brand evolution.
Collins presented a comprehensive history lesson on his formative years on the Design Indaba Conference stage, giving account on the significant moments in his youth that shaped his creative vision into what it is today. Growing up in the small town of Lexington, Massachusetts, Collins was inspired by the seemingly futuristic building styles that emerged in the mid-1960s that were contrast to traditional colonial architecture of the area. He became interested in the way architects and designers would produce creations as expressions of modernity, that utilitarian living spaces could also accommodate distinct style in their makeup.
He is a proponent of the notion that a good designer draws inspiration from a plethora of sources rather than being confined to a single school of creativity. Collins described his admiration for typography and how the amalgamation of font design, illustration and cinematic imagery in movie posters left a lasting mark on his sense of creativity.
The designer reflected on the unique creative scene that came to life in the city of Boston between 1960 and 1975, highlighting the innovative work of Corita Kent as well as the positive impact that urban redevelopment had on creative culture during this time.
Though much can be gained from analysing the moments when designers took a step forward as a collective in terms of architecture, graphic design and filmmaking, Collins also draws wisdom from the failures in history. He discusses the popularity and fall of the Howard Johnson's eatery chain by highlighting its place in Stanley Kubrick's iconic 1968 science fiction film, 2001: A Space Odyssey.
"Howard Johnson's was such an indelible part of the American culture that Stanley Kubrick thought it would make it into the 21st-century," said Collins, "But then in the early 1970s and 1980s, it slowly vanished over the course of a decade. They didn't keep track of what was happening with American tastes."
Collins deduced that reinvention is a vital part of a brand's survival and that how the public experiences it is more important than how the brand chooses to conduct itself. To better demonstrate his philosophies regarding the lifeblood of a successful brand and how it can stay ahead of not only its competitors, but the larger zeitgeist too, Collins presented his company's treatment of the Spotify rebrand campaign.
In his view, a brand needs to embrace its product wholeheartedly and live in its own quirky skin without falling into the sameness of a streamlined, professional identity. On the other side of the coin, Collins urged consumers to be savvy of the nonverbal language that products and their packaging communicate. The distinction between a design that says "buy me" and one that says "live with me" is valuable in identifying creative integrity.