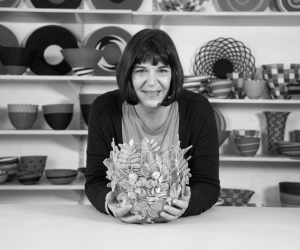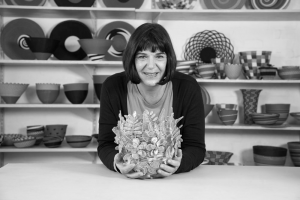 Standard
Marisa Fick-Jordaan's award winning range of distinctive vessels, and sculptural pieces, sold under her Zenzulu™ brand, are a South African design classic. Her designs have been shown at design biennale and fairs around the world and included in the cutting-edge exhibitions Design and the 21st Century (Holon Design Museum) and Global Africa Project (Museum of Arts and Design New York).
A collaboration with Fabrica and Bosa Ceramics in Italy led to a licensing agreement with Bosa for her "Amasumpa" platter, selling in European design stores. In 2008 she was approached by Oscar de la Renta and developed a range of accessories for his spring show in New York.
She also works as a product design and craft development consultant in South Africa, Tanzania, Mozambique, Rwanda, Senegal and Zambia, and is passionate about the development of Africa's creative industries.
Trained as a designer at the Natal Technikon (1985-1987), her diverse interests came together when her passion for transitional craft forms led to the start of an internationally renowned telephone wire weaving project in 1995, fusing traditional techniques, modern materials and contemporary design.
In 2002 she received an Elle Decoration International Design Award, in 2003 was nominated for the Prince Claus Award for Contribution to Craft in SA, and in 2007 was selected as a TED Global Fellow and presented at TED Global Africa.
Fick-Jordaan is also an official curator of Design Indaba Expo, and for the 2014 event is selecting exhibitors for the Handmade and Design for Social Impact sectors.